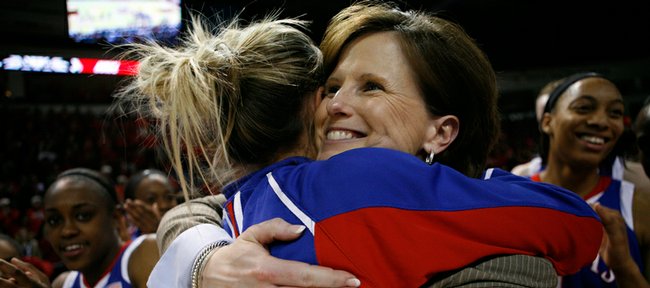 Photo Gallery
KU vs. New Mexico in the WNIT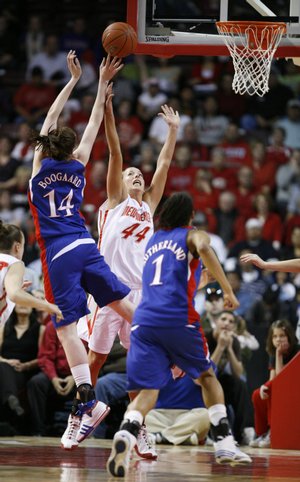 KU defeated New Mexico in the Elite Eight round of the 2009 WNIT in New Mexico on Monday, March 30.
Rio Rancho, N.M. — Suddenly, the team that couldn't win on the road is headed for the WNIT Final Four.
With only one victory in an unfriendly arena since Christmas, Kansas University went into a New Mexico snake pit on Monday night and stunned the Lobos, 78-69.
"It was a good, tough, gutsy win in a tough environment," KU coach Bonnie Henrickson said.
An announced crowd of 5,620 — the largest to watch a WNIT game this month — often turned ugly, often booing the referees and throwing ice, small objects and trash on the floor afterward.
The heavily pro-New Mexico crowd in the Santa Ana Star Center was livid because Kansas went to the free-throw line a whopping 36 times, converting 26.
Henrickson, of course, had a different slant on the Jayhawks' three dozen trips to the foul line.
"Credit the kids for getting there that much and being aggressive," Henrickson said.
By winning its third straight tourney game — and for the eighth time in the last 10 games — Kansas (21-13) earned a berth in the WNIT semifinals.
KU will meet Illinois State (27-7) at 7 p.m. Wednesday in Allen Fieldhouse.
The other Wednesday semi will send South Florida (25-10) to Boston College (23-11). The championship game will be at 1 p.m. Saturday at the site of one of the two Wednesday victors.
Kansas was led, as usual, by Danielle McCray, who recorded game highs in points (32) and rebounds (9).
"McCray is in a different class," UNM coach Don Flanagan said. "We tried everyone on her except Val (Kast), and it didn't even slow her down much."
McCray, a 5-foot-11 junior, said she was motivated by the large, raucous crowd.
"I like the pressure," she said. "And I like being under pressure. I knew it was loud, and the only way to make the fans be quiet was to knock down a shot."
Three teammates scored in double figures, too.
Freshman Aishah Sutherland matched her career high with 15 points, Sade Morris added 14 and Krysten Boogaard 11.
Sutherland and Boogaard snatched seven rebounds apiece as KU forged a 39-33 advantage on the boards.
"Krysten gave us great one-on-one stuff inside," Henrickson said, "and Aishah did as well."
In addition to its steady parade to the foul stripe, Kansas shot 49 percent from the floor (24 of 49).
"I think we scored or got fouled every time against their 2-3 zone," Henrickson said.
Kansas sprinted to its largest lead (41-31) early in the second half, but the Lobos battled back, four times closing within two points — the last time (66-64) with about six minutes remaining.
New Mexico stumbled the rest of the way, however, missing six of its last eight shots and turning the ball over three times. Overall, the Lobos wound up shooting just 35 percent (22-63), but were able to hang with the Jayhawks by nailing 21 of 24 free-throw attempts.
The three-woman officiating crew whistled 45 fouls — 26 against New Mexico and 19 against the Jayhawks — that led to the 50 free-throw attempts.
When it was all over, Kansas was the team that survived and advanced.
"Everyone deserves to win this time of year," Henrickson said, "and it comes down to who's determined to win."
More like this story on KUsports.com