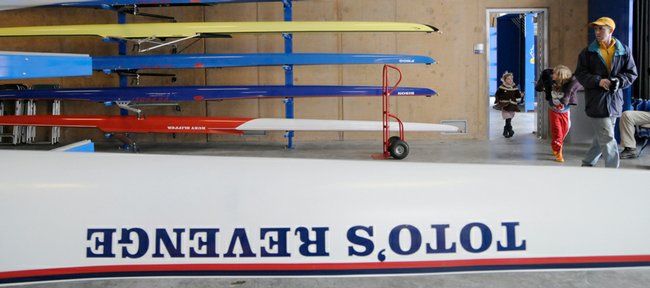 The Kansas University Athletics Department is undertaking several facility improvements after external reports showed the university's men's and women's facilities were unequal.
Jim Marchiony, associate athletic director, said the university annually undergoes an external review for Title IX issues related to gender equity in all facets of its program.
The consultant, Lamar Daniel Inc., identified areas in which the university was doing well, such as in participation and coaching support, among others, Marchiony said.
"The one area that we need to focus on is facilities," he said.
The external gender equity report from 2007-08 called facilities "the biggest problem facing the athletic program because they were neglected by the previous athletic administrations."
It goes on to say that the current administration is helping to address the problem by developing and implementing a facilities master plan and making improvements to facilities.
As pointed out in KU's recently-released internal study required by the NCAA, the university needs to make upgrades to bring women's facilities into comparable status.
The university is already headed down that road, Marchiony said, with an opening this year of a new, much-needed boathouse for women's rowing, and other renovations in the works.
A planned Olympic Village south of Anschutz Pavilion includes many improvements for women's sports, including softball improvements totaling $1.1 million, with improvements for grandstand seating for 1,200 people and a press box.
The outside consultant's 2007-08 report states that grandstand, concession areas and restrooms were needed for the softball program.
"The softball facility should be of equal quality as the baseball facility but on a smaller scale," the report reads, going on to say the softball stadium should have the same amenities found at the baseball park.
Soccer is also targeted for needed improvements — a new soccer competition field, scoreboard and grandstand seating for 2,500 is planned at the Olympic Village, at an estimated cost of $4.5 million, with an additional $2 million dedicated for a separate soccer practice field.
Marchiony said private fundraising is ongoing to pay for the improvements.
The internal study for the NCAA references separate plans to upgrade Horesji Family Athletic Center to allow for 2,000 seats in the volleyball stadium so that the facility can host NCAA tournament games.
The university is Title IX compliant, but that doesn't mean that improvements still can't be made to women's facilities, Marchiony said.
"We just have to make sure that we don't treat our women's programs like second-class citizens," he said. "We want to treat them in a first-class manner."
More like this story on KUsports.com