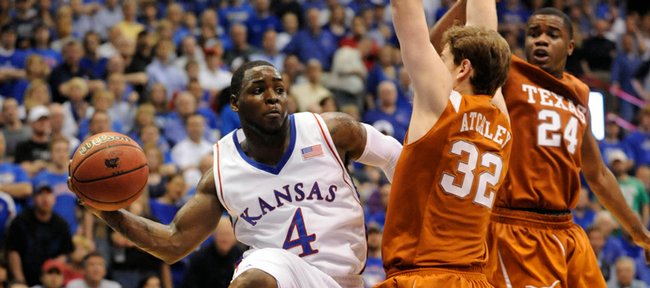 Kansas University junior guard Sherron Collins on Monday was named third-team All-America by the Associated Press.
Sophomore center Cole Aldrich was tapped honorable mention.
Collins also has been named second-team All-America by the U.S. Basketball Writers Association and third-team by CBSsportsline.com and the Sporting News. He also was first-team All-Big 12 and All-NABC District Eight. Aldrich was named first-team All-Big 12 and All-NABC District Eight.
Self compiling info: KU coach Bill Self on Monday said there would be no immediate word on whether Aldrich and Collins will return to KU next season.
"I may talk to them (before leaving for Final Four on Wednesday night), but nothing will be decided. I've got to get the information from the NBA people," Self said of obtaining information about where the two would be taken in the 2009 NBA Draft if they elect to leave school.
Lance may decide today, or not: Lance Stephenson, a 6-foot-5 senior guard from Lincoln High in Brooklyn, N.Y., has said he will announce for either KU, St. John's or Maryland at 10:45 a.m. CDT today at McDonald's All-America Media Day in Miami.
Several recruiting services believe KU is the choice.
However, the New York Daily News reported in today's editions he "likely will hold off on that announcement a little longer."
The paper did not indicate a reason for Stephenson possibly delaying the decision, quoting a source as saying he's "99 percent sure" Stephenson will be a Jayhawk.
Stephenson missed the first two McDonald's game practices after missing his flight to Miami. He did compete in Monday's three-point contest.
Stephenson, rated No. 9 nationally by Rivals.com, is New York State's all-time leading scorer. He initially had said he would announce his college choice at Madison Square Garden after the PSAL championship game. But he changed his mind after attending KU's home finale against Missouri and reported on March 18 that he had decided on a school and planned to make an announcement at the McDonald's game.
Zagsblog.net, the New York Daily News and others believe if the choice was St. John's, he'd have announced at the Garden.
Stephenson has said he wants a chance to win a national championship in his one season in college.
Stephenson averaged 31.9 points, 12.7 rebounds and 2.4 assists this past season. In five playoff games, he averaged 37.2 points, 12.6 rebounds and 5.2 assists. The New York high school legend goes by the nicknames "Born Ready (for the NBA)," "Sir Lance-A-Lot" and "The One."
Henry update: There is speculation that No. 3-rated Xavier Henry, a 6-6 senior guard from Putnam City (Okla.) High School, may ask out of his letter of intent at Memphis if Tigers' coach John Calipari takes the Kentucky job. Xavier Henry chose Memphis over KU.
"I don't know. I have to talk to him, talk to my family and then go from there," Xavier's brother, C.J., told Memphis' Fox 13 News when asked what a Calipari move would mean in terms of Xavier's commitment to Memphis. "It's up to (Calipari), whatever is best for him and his family. There's not going to be any hard feelings or grudges toward him if he leaves. It's just whatever he needs to do."
Daniel Orton, a 6-10 center from Oklahoma City McGuinness High who chose Kentucky over KU and others, told the Oklahoman he still plans to attend UK despite the recent firing of Billy Gillispie. He said no decision would be final until after meeting the new UK coach.
Close but no cigar: Self was asked if the fact Michigan State whipped Louisville, 64-52, on Sunday made him feel any better about the Jayhawks' 67-62 Sweet 16 loss to the Spartans.
"No, it made me realize we were that close," Self said of KU possibly reaching the Final Four had the Jayhawks stopped the Spartans. KU led by as many as 13 points the first half.
"They played really well, though," Self added of MSU in the Elite Eight game.
Banquet information: KU's men's basketball awards banquet will be held at 7 p.m., April 13, at the Holidome. No tickets are available. The banquet is sold out to Williams Fund members.
More like this story on KUsports.com