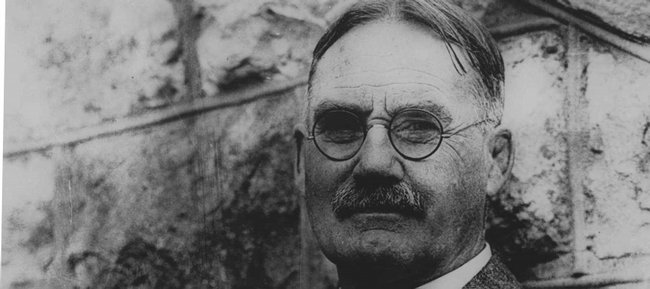 'Basketball and Religion: Naismith's game'
What: Lecture by Michael Zogry, assistant professor of religious studies at KU
When: 4 p.m. Thursday
Where: Smith Hall, room 100, KU campus.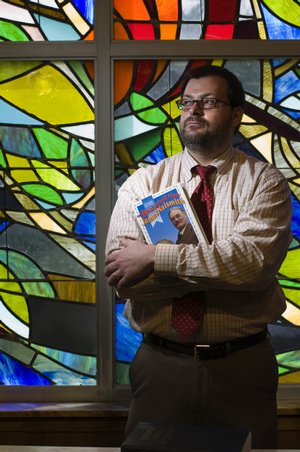 In a forgotten little room in Allen Fieldhouse, Michael Zogry felt he'd seen a ghost. Or at least a memory that had come to life.
Wrapped up and tucked away past a cage full of awards was a surfboard-shaped piece of basketball history — a real, live memory from a childhood decades ago.
There was Phog Allen, his face rendered in Lucite in the image of a stained-glass window, the date of the famed Kansas University coach's death scratched onto a piece of paper and taped into place.
Zogry felt like he'd been hit in the head. Long before the date of Allen's death was taped to the window and longer still before that window was stashed in Allen Fieldhouse, Zogry had seen the colorful, 10-foot high "window" in its original setting — the Basketball Hall of Fame in Springfield, Mass. There, it was part of the "Honors Court" — a room filled with basketball icons, each enshrined in identical "stained-glass" Lucite.
"When you see it you're like, 'What is this? Is it a student project or something?'" Zogry, an assistant professor in religious studies at KU, says of the window. "But when it was in the room ... when they were new, it had a certain effect to it."
That effect was meant to honor the inventor of basketball, James Naismith. And at 4 p.m. Thursday, the Phog Allen window will come out of storage and into the light as part of Zogry's lecture, "Basketball and Religion: Naismith's Game" at Smith Hall.
Religion and basketball
Zogry has always been interested in where "religion and sports bump up against each other" — a friction that could have easily been applied to Naismith's life. It can be applied directly to the Allen window and others hidden away in Allen Fieldhouse — windows which were intended to celebrate Naismith's religious ideals in the first Hall of Fame, Zogry says.
"One of the things that is so interesting is, after he died, there was a decision to make a Basketball Hall of Fame," Zogry says. "And the decision was that because he was such a religious man, they wanted a part of the Hall of Fame to reflect that."
Naismith's religious life was probably more integral to him than basketball, even if it isn't his legacy.
The history of Naismith's relationship with basketball is, of course, well-documented. He invented the game of basketball in December 1891 as an indoor activity that could keep the men of what is now Springfield College from going stir crazy. He coached at KU from 1898 to 1907.
"Basketball is one of those few sports where we really can point to a specific moment in time and a specific event and the things that really led up to it, you know. The other sports, so many of them were an evolution," says Matt Zeysing, historian at the hall and a KU grad. "It's obviously an American game created by a Canadian, but you can really trace that lineage or that path. And I don't think in many other sports you can do that."
That path starts at Naismith's faith life. Naismith had studied to be a minister at McGill University before heading to Springfield. A believer in "Muscular Christianity," Naismith thought physical strength could work in tandem with religious strength. It was through this connection that he sought to do the Lord's work — through sport he wanted to spread the word.
"In a way he could missionize, he could spread the gospel, the good news, but do it on the playing field," Zogry says. "On top of them wanting to have a game that would hold their interest, that they could play inside ... also they wanted a game that expressed these ideals of 'Muscular Christianity.' (Basketball) was in line with those ideals."
His ideals were immediately on display when he arrived on the KU campus, when he was hired to be an associate professor of physical education and the director of the university chapel. As part of his duties, he led daily, mandatory chapel services for a time. In the community, he taught Sunday school classes at First Presbyterian Church and preached at services in Vinland, Silver Lake, Rossville, Delia and Leavenworth, among others.
In his research for his lecture, Zogry found another religious tangent that Naismith left behind — right on the spot where his desk now sits. Naismith, as it turned out, helped form the Kansas School of Religion, the precursor to the university's religious studies department, where Zogry works.
"For us, and our department, finding this out, it's pretty cool think that he had a connection with what we do," he says.
Basketball gods
Also feeling a connection to Naismith was Springfield College, the site where Naismith created the game. To honor Naismith and the game, the Basketball Hall of Fame went up on the school's campus in 1968. There, the designers seemed to honor Naismith with those stained-glass windows in the chapel-like setting of the "Honors Court."
Zogry remembers the room well from trips as a kid. Smushed inside a space more fitting to a high school cafeteria than a high room of basketball, were identical stained-glass creations, each mounted along a stubby wall. It sounds almost quaint compared to the shiny basketball-shaped building that now houses its enshrinees with back-lit portrait plaques smiling down from a "Ring of Honor" onto a hardcourt from the dome above. The new building, 7 years old and the third home to the hall, is meant to be the ultimate tribute to the game of basketball. And though it is more subtle, there is still a religious element to it, says Zeysing.
"The portrait plaques ... they're kind of way up in the dome, and the designers thought that it would be nice for that to hearken back to that original idea of basketball and some kind of religious, bigger meaning to it," Zeysing says of the Ring of Honor. "In terms of those portrait plaques, are actually supposed to be looking down at you as a visitor as basketball gods from the basketball heavens."