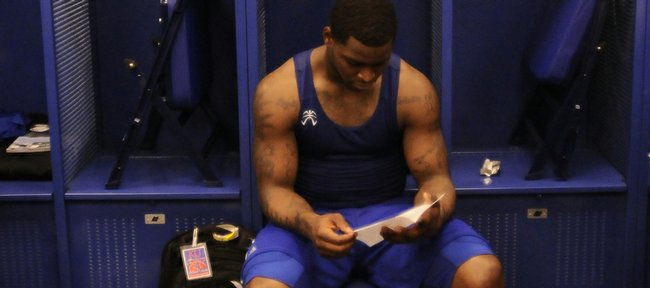 Indianapolis — Pin it on Sherron Collins. That's the easy way to go. He even begged for it in the wake of Michigan State's come-from-behind, 67-62 Friday night knockout punch of Kansas University in Lucas Oil Stadium.
"I don't want to hear anybody talking about the young fellas, putting anything on them," Collins said from a seat in front of his locker. "I can take whatever anybody wants to give me, but don't dish it on them. Dish it all on me."
Certainly, from the white flag to the checkered flag, Michigan State point guard Kalin Lucas was magnificent, and Collins, his counterpart, couldn't do anything right, but simply to blame this loss on Collins and move on would be more shallow than the Jayhawks' pool of experienced talent was during a 27-8 season.
Kansas didn't make it to the Elite Eight because teams that have to put a huge share of the load on one perimeter player and one post player generally don't.
Michigan State surrounded Lucas and center Goran Suton with talent more ready for the big stage than Kansas had supporting Collins and sophomore center Cole Aldrich. Therein lied the chief difference between the teams.
Long before Collins failed in a trio of different ways in the final 1:19, the Kansas role players appeared to experience stage fright that kept them from shooting open shots.
"I think we were relying on Sherron too much to make plays for us," freshman guard Tyshawn Taylor. "He's been making plays, so I can't fault anybody for relying on him, but I just felt we relied on him way too much. When we got open opportunities, we passed it back to him."
Collins even was guilty of doing the same when he drove into the lane, didn't see a shot he liked and threw an over-the-shoulder pass in the general direction of Aldrich. Lucas — man, what a closer he is — picked it off with the score tied, 60-60.
Collins made his next mistake when Lucas took him into the lane, hesitated just long enough to get Collins up in the air, hit the shot and was awarded a free throw when, on his way down, Collins glanced against him. Once he left his feet, Collins' best option would have been a hard foul.
KU's final chance died when Collins missed the front end of a 1-and-1 with 19.9 seconds left.
Sure, Collins committed six turnovers, but he also led Kansas in scoring with 20 points and made nine of 13 field goals.
Aldrich, who had trouble guarding Goran Suton (20 points, nine rebounds, five steals) away from the basket, had 17 points, 14 rebounds and four blocked shots.
Collins and Aldrich scored in double figures in each of the three tournament games, and no other KU player reached double figures once. They scored 63 percent of the team's points.
If Collins and Aldrich return, next year's roster will have more experience and more talent with the additions of power forward Thomas Robinson, guard Elijah Johnson, center Jeff Withey and possibly ultra-talented New York City wing Lance Stephenson.
No wonder when someone informed Taylor that next year's Final Four will take place in Lucas Oil Stadium, he looked into the future and smiled.
"I didn't know that, but it does motivate me now that you mention that," he said. "I think next year, if we get our two guys back, we'll be back in the same locker room and the outcome will be different. They led us all year. We get them back, the sky's the limit. I think we'd be pretty good without them, but with them, we'd be really, really good."
Collins said he expects to return next season and will follow the lead of his coach, Bill Self, in making that decision.
"I wish the season started next week," Collins said. "I'm real anxious to get back in the gym with these guys and do it all over again."
With more talent around him, he'll have more left in his tank from the white flag to the checkered flag, and he'll have more options around him.
More like this story on KUsports.com