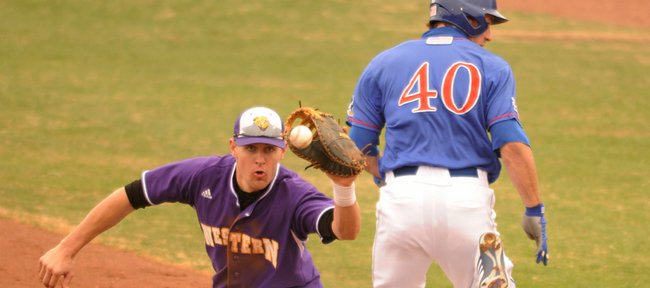 Not long after Western Illinois first baseman Tyler Metcalf had battered the Kansas University pitching staff for two home runs in a losing effort Tuesday, the cell phones of the Jayhawks' coaching staff began blinking with text messages.
The sender? Former KU standout Travis Metcalf, one of the program's most accomplished power hitters and Tyler's older brother.
"He said 'That's how the Metcalfs roll,'" said Kansas head coach Ritch Price, who coached Travis — the Jayhawks' school record-holder for home runs in a season with 18 — for two years.
Apparently so. During a two-game series in which he provided the main source of offensive firepower for Western Illinois — he added a third home run in a 7-4 loss to the Jayhawks on Wednesday — the 6-foot-4, 215-pound senior looked eerily similar to his older sibling, who amassed 29 career longballs at KU before being taken in the 11th round of the 2004 Major League Baseball draft.
"It feels good to come home to Kansas and swing the bat well," said Tyler, who finished the Leathernecks' two-game series against KU a combined 3-for-7 with three home runs and three RBIs. "Especially against KU and with (everything) my brother did here."
After earning all-state honors as a senior at Wamego High School, Tyler had wanted to follow in his brother's footsteps by signing with the Jayhawks following two seasons at Barton County Community College, taking an official visit to the school where his brother shined from 2002 to 2004. Throughout high school, he had made the 50-mile trip to Lawrence to watch nearly all of Travis' games, and he said Wednesday that he knows "about 90-percent of the players" on the current KU roster.
When it came time to decide on a four-year school, however, things didn't come together.
With Kansas featuring two first basemen in Erik Morrison and Preston Land, Tyler signed with Western Illinois prior to the 2008 season, where in his second year he's developed into the team's top offensive player.
"He's a great kid," said Price on Tuesday. "He wanted to come to school here, but we had (former standout) Erik Morrison standing out there when he came out of (junior college). So he got a full ride to Western Illinois and has had a really great career there."
A day after blowing the Leathernecks out in a 14-3 victory, meanwhile, the Jayhawks won in far less dominating fashion Wednesday. Pitcher Brett Bollman allowed just two runs (one earned) and struck out five in five innings and third baseman Tony Thompson finished 3-for-4 with two home runs and three RBIs, but the Jayhawks (15-7, 3-0 Big 12) were admittedly flat in their final tune-up before traveling to College Station for a three-game weekend series against No. 15 Texas A&M.;
"I didn't think our energy was very good yesterday, and I didn't think it was very good in the dugout today," said Price, whose team was coming off a weekend sweep of top-ranked Texas. "Certainly, when you put yourself in the position that we're in right now, you can't afford to have a setback on a Tuesday against Western Illinois. You've got to take care of business."
They eventually did, putting together three multi-run innings after a slow start. Thompson hit the first of his home runs in the bottom of the fourth inning, a two-run blast that gave the Jayhawks a 2-0 lead. Kansas added one more run in the inning before Thompson again went deep in the fifth, capping a two-run inning that gave the Jayhawks all the cushion they would need.
Asked afterward if he fancied himself a power hitter these days, Thompson, who has already surpassed his home run total from a season ago with six, smiled.
"I guess I'd like to think so sometimes," he said. "Last year, I didn't have many extra-base hits, so I feel like I could try to step into that role this year and try to hit some balls in the gap and hit a few out of the park every once in a while."
With their mid-week series against WIU (3-12) out of the way, Kansas will now turn its collective attention toward its weekend matchup with the Aggies, a three-game set that, depending on the outcome, could provide a significant boost in the Jayhawks' quest for their first postseason appearance in three years.
"They tell you that you're supposed to go on the road and make sure you don't get swept — make sure you win one game on the road and win your series at home," said Price. "We've been preaching to our guys that you've got to go on the road and win a series.
"And that's what our goal is going to be."
• Kansas senior reliever Paul Smyth was named to the College Baseball Foundation's National All-Star Lineup for the week of March 24 after earning three saves in Kansas' sweep of the top-ranked Longhorns last weekend.
An Atascadero, Calif., native, Smyth is tied for the Big 12 lead with 12 saves this season and has not allowed a run or walk in eight home appearances this season.
More like this story on KUsports.com