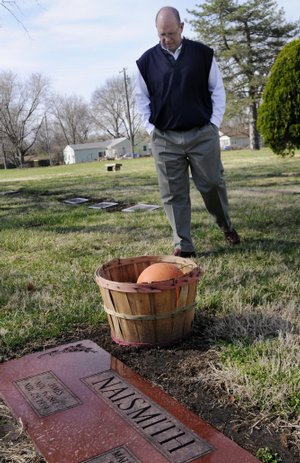 It's do or die for the Kansas men's basketball team.
As the Jayhawks head to Indianapolis for their Sweet 16 matchup against Michigan State on Friday, it's prompting superstitious fans to pull out their strange traditions.
"I know people all over town, who do the craziest of things," said Anne Buhler Dillon, Lawrence native and conventions marketing manager for the Lawrence Convention and Visitors Bureau, 402 N. Second St.
Many faithful fans try to bring out good luck vibes at Memorial Park Cemetery, 1517 E. 15th St., by visiting the grave of James Naismith, the inventor of basketball and KU's first basketball coach.
That's where Tom Tucker, of Lawrence, placed a peach basket with an old basketball inside before the NCAA tournament began. The avid Jayhawk fan couldn't resist the gesture, especially since he did the same thing last year.
"Seemed to have pretty good results," Tucker said.
Visiting the cemetery was a longtime tradition for former KU coach Roy Williams and a group of his jogging buddies, who said the grave visits brought good fortune about 90 percent of the time.
"We did it a lot of game days, but the ones where we were really serious about it, were the big games," said Scot Buxton, of Lawrence.
Williams, Buxton and up to six other men would start at KU's Memorial Stadium, jog to Naismith's grave and sometimes they'd also visit Phog Allen's gravesite, across the street at Oak Hill Cemetery, 1605 Oak Hill Ave.
On occasion, they'd jog to the Kansas River Bridge and spit in the river. Other times they'd jog over and kick the large buffalo statue along Clinton Parkway in West Lawrence. And sometimes Williams just wanted to go it alone.
It just depended how severe the opponent was and "what needed to be done," said Randy Towner, who was also a part of Williams' superstitious good luck group.
"We tried to mix it up a little bit," he said.
Several faithful fans visit Naismith's grave and memorial sites each year, said Mitch Young, who manages the cemeteries for the city's parks and recreation department.
"Mostly around basketball season, they'll be placing little basketballs (and) trinkets on his grave," Young said.
In the wake of KU's NCAA tournament run, local tourism officials are encouraging more people to keep the tradition alive, by visiting Naismith's grave.
"He lived and died in this town, and we're pretty proud of that and think it's a great opportunity for people here in Lawrence, as well as visitors to come and see what we're all about," Dillon said.
If the Jayhawks make it to the Final Four on April 4, Dillon said a group of Jayhawk diehards plan to visit the grave the morning before, where they'll raise their coffee cups and give a cheer to Naismith.
"I would warn people that if you haven't done it in the past, they don't want to be jinxing us," Dillon added.
More like this story on KUsports.com