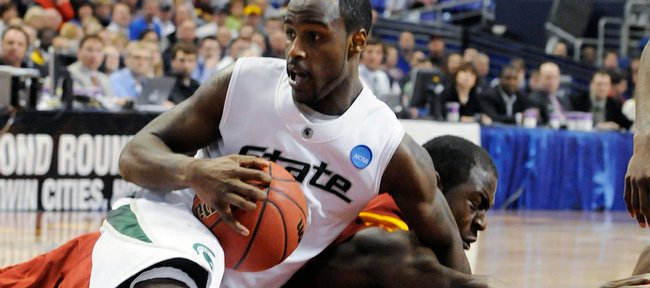 East Lansing, Mich. — Travis Walton strolled onto Michigan State's practice court shortly after midnight with a McDonald's cup in one hand and a basketball in another.
"Just getting some shots up and watching more film," Walton said Wednesday in an interview with The Associated Press. "Just cherishing this moment."
The second-seeded Spartans still have a chance to soak up and create memories because the Big Ten's defensive player of the year had his best game offensively in the second round against USC.
Walton scored a career-high 18 points in the win, putting Michigan State in the regional semifinals for the eighth time in 12 years and keeping his hopes alive to continue a streak for the elite basketball program.
Since Tom Izzo succeeded Jud Heathcote in 1995, every player who has played for the Spartans for four years has been on a Final Four team.
If Walton can help the Spartans beat defending national champion Kansas on Friday night and the winner of the Louisville-Arizona game on Sunday, he and his fellow seniors will extend the feat.
"It's something you think about, but it takes patience," Walton said. "We just have to focus on Kansas."
Despite Walton's breakout game, the Jayhawks probably won't have to worry about him making rainbow jumpers from all angles as he stunningly did against USC.
They will, though, have to hope Sherron Collins can score against him.
Collins made 11 of 14 free throws and scored 25 points in Michigan State's 13-point win on Jan. 10 in East Lansing.
"The key is keeping him off the line this time," Walton said. "But that's easier said than done because he's really good."
Walton's statistics aren't good, but his impact is great.
He is scoring just 5.3 points a game, ranking seventh on the team, and averaging 3.2 assists, 2.3 rebounds and 1.5 steals.
The guard has made his greatest contribution with intangibles Izzo needed again.
Michigan State won the 2000 national championship during a four-year run that included four Big Ten titles and three Final Four appearances because it was mentally and physically tougher than many of its opponents.
Then, the Spartans went seven seasons without a conference championship and advanced to the national semifinals once.
Izzo said he made the mistake of valuing talent over toughness before recruiting Walton to bring the program back to its blue-collar roots.
More like this story on KUsports.com