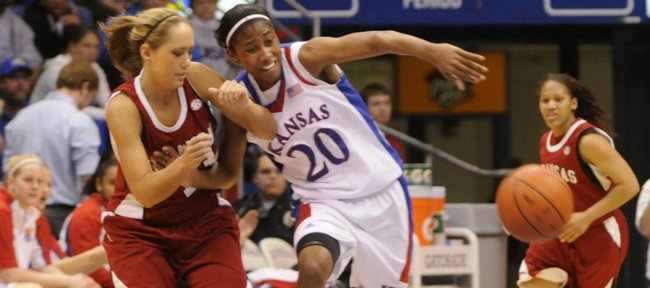 Those candies are tasty — they melt in your mouth, not in your hands — but Kansas University's M&Ms; may be even better.
Danielle McCray and Sade Morris combined for 58 points as the Jayhawks spilled Arkansas, 75-59, in a WNIT Sweet 16 game Thursday night in Allen Fieldhouse.
"I didn't realize we had that big a part," Morris said after the two 5-foot-11 juniors accounted for 77 percent of KU's scoring.
Morris contributed 23 points — one off her career high — while McCray matched that total in the second half on the way to tying her career-high of 35, established just a couple of weeks ago against Baylor.
McCray missed a short jumper with about three minutes remaining that would have given her 37, then coach Bonnie Henrickson yanked her with 2:31 remaining and the Jayhawks ahead by 22 points.
McCray said she knew she had matched her career-high, but she wasn't complaining about the late hook.
"I wasn't going to be greedy," McCray said. "It'll come at another time."
In the Baylor game, McCray scored a point a minute, but she was even more efficient this time. Her 35 points came in just 28 minutes.
Who knows how many she would have scored if she hadn't sat the last seven minutes of the second half after picking up her second foul?
"I was upset with myself," McCray said, "because I haven't been in foul trouble for awhile."
Breaking it down, the Olathe East product scored 12 points in 13 first-half minutes and 23 in 16 second-half minutes. Oh, and she was foul free after the break.
Arkansas coach Tom Collen was impressed.
"I had some Big 12 coaches tell me they thought she was the best player in the conference right now," the second-year Razorbacks coach said. "She's an All-America candidate."
McCray has been so dynamic over the last five weeks that she might pass the 35-point plateau in the Jayhawks' next game … whenever it is.
KU will meet the winner of tonight's New Mexico-Oregon State game in the WNIT Elite Eight at a time and place to be determined. Most likely, however, it will be Monday night and probably in Allen Fieldhouse.
McCray and Morris have been the Jayhawks' leading scorers all season, but they've been outdoing themselves while KU has won seven of its last nine games.
Clearly, they're in total sync.
"I go as D goes, and she goes as I go," Morris said. "We've always known what we can do. Now it's gut-check time. We're in this to win."
Added point guard Ivana Catic whose eight assists came mostly off feeds to Morris and McCray: "They really complement each other. They rebound, they penetrate, they score."
Still, no team has ever won a basketball game with just two players and Henrickson gushed about their teammates have accepted their roles.
"I think its unselfishness," the KU coach said. "With this group everybody has embraced their role."
For instance, during the last four minutes of the first half, four KU starters — including McCray and Morris — were on the bench with two fouls. Catic was the only starter on the floor.
"We had four starters on the bench," Henrickson said, "and Arkansas didn't cut our lead."
Also noteworthy was the fact Kansas crossed the 20-victory barrier for the first time in nine years.
"That's great," Henrickson said. "That's a bench mark in basketball."
More like this story on KUsports.com