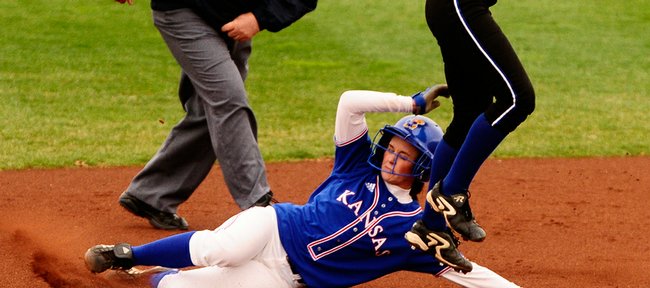 Val George paused to ponder one final post-game question before stepping off the softball field, and it seemed to throw her for a loop following a long Wednesday afternoon at Arrocha Ballpark.
It was not a question with an easy answer, but she tried her best to provide a decent response after her Kansas University team had dropped a doubleheader against Creighton, 2-1, in seven innings, followed by 4-3 in ten innings, marking KU's fifth consecutive defeat overall.
The question: Why is this year's Jayhawks team struggling, even though they retained many of the same players as last year's successful squad?
"I don't know," George said. "Some of it might be our confidence."
Ah, yes. The most intangible of intangibles in the sports world. And the reeling Jayhawks don't seem to possess much of it right now, mostly because their positive performances have not resulted in positive outcomes.
"You look at your kids and you say, 'If you (do this),' and they did, but they've got nothing to show for it today, and that's very frustrating," KU softball coach Tracy Bunge said.
A year ago, a career-high 14-strikeout performance in the circle — like the one George accomplished in Game One of Wednesday's doubleheader — likely would've been good enough to earn a victory. A year ago, Kansas probably would've also found a way to scratch across a run by the 10th inning of Game Two.
But this is not last year's team. It is an offensively-challenged squad searching for answers despite starting nine players during Wednesday's doubleheader that played in the final game of last season.
On Wednesday, Kansas lowered its already poor team batting average back down to .236, last in the Big 12. And in losing both games, the Jayhawks actually matched last year's team in the loss column.
The only problem is that last year's squad finished 37-19, and this season's version now stands 10-19 with roughly half a season to go.
"I don't really know what the difference is between this year and last year," KU center fielder Dougie McCaulley said, "other than the fact that last year we did have a few balls fall our way that boosted our confidence and our swagger."
Even a complete-game five-hitter from George, the team's most reliable pitcher, was not good enough in Game One. Kansas tacked on its only run in the last inning, but couldn't overcome a 2-0 deficit against Creighton's ace pitcher, Tara Oltman.
"At this point, as long as we're taking strides to be better, it doesn't bother me," George said of being saddled with the loss. "As long as I know that I gave everything that I could and they did, too, then I don't feel like it's a loss."
In Game Two, Kansas scored twice in the first inning behind RBI singles from Liz Kocon and Amanda Jobe. Kocon then tied the game at 3 in the fifth when she doubled to right off the base of the wall, plating McCaulley from second.
But the Jayhawks finished the game 2-for-17 from there, finally bowing out in the tenth inning. Creighton's Liz McKewon scored from third on a deep sacrifice fly to left field in that frame for the go-ahead run.
McCaulley led KU with five hits. George, who pitched a combined 12 innings and allowed three runs during the doubleheader, took both losses.
"I just feel like even when we play well right now we're not getting the breaks that we need to win the ballgame," Bunge said. "That's the most frustrating part."
More like this story on KUsports.com