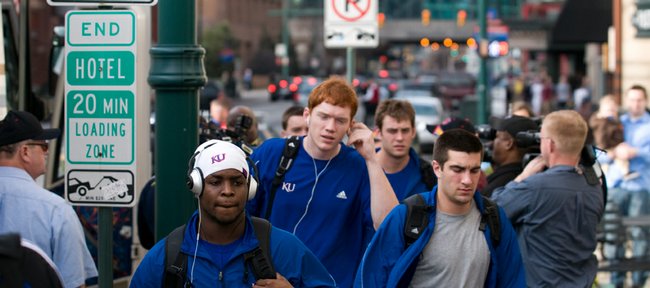 Feature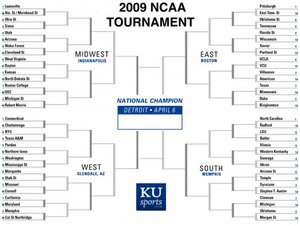 Get yer bracket on! Browse all brackets, check out out KUsports.com staff brackets, and check to see how your bracket's holding up after each match up is complete.
Indianapolis — Police sirens blared at 6 p.m. on Wednesday as Kansas University's basketball team bus pulled up to the front door of the Omni Severin Hotel.
Coach Bill Self led the parade of players and coaches into the lobby as the defending national champions prepared to settle in and make final preparations for Friday's 8:37 p.m. (Central Daylight Time) Sweet 16 battle against Michigan State at Lucas Oil Stadium — located a stone's throw from KU's team headquarters.
"I've not seen a more impressive building ever while driving in," Self said of the brand-new home of the Indianapolis Colts. "We're looking forward to getting in there."
The Jayhawks (27-7) will hold a shootaround in the massive 63,000-seat facility from 1 p.m. to 1:50 p.m., EDT, today.
First on the players' agenda Wednesday in Indiana's Capital city was devouring a quick team meal, then rushing down the block to Conseco Fieldhouse where Brandon Rush's Indiana Pacers were taking on Mario Chalmers' Miami Heat.
"It is cool Mario and Brandon are here," Self said of two players who helped KU win the 2008 NCAA title.
"Our players love Brandon and Mario. It's great they are able to go over there to support those guys. I want to watch them as well, but it'd make too long a night."
On tap for Self on Wednesday night was watching tape of Friday's foe — Michigan State.
"I've got to watch the first Michigan State tape two or three more times," Self said of the Spartans' 75-62 victory over KU on Jan. 10 in East Lansing, Mich.
"There are a couple possessions I can't remember exactly what happened," he joked.
He brought plenty of tape of the Spartans (28-6) with him to Indiana.
"They've played 22 games since we played them. There are still some things I've not seen," Self said.
"I'm one of those guys if you are not watching tape, you are going to miss something."
Self said he didn't wish to show disrespect to North Dakota State and Dayton, two teams the Jayhawks defeated last weekend in Minneapolis, but that Michigan State was a different type of animal, so to speak.
"We get the opportunity to play the best team in the Big Ten," Self said of Tom Izzo's Spartans, who went 15-3 in league games. "The bottom line is we had a knot put on our head by Michigan State. The final score was 12 or 13 (points). It felt like 20 to our guys. We tried hard, but didn't execute a flip offensively."
KU did show some guts that game, slicing a 19-point deficit to nine with four minutes left.
"That game did help us a lot. We were behind a lot in games in our conference season and never panicked," Self said.
Self noted that the Midwest Regional has four outstanding teams still standing. Arizona will meet Louisville in Friday's other semifinal.
"We've got two coaches — Izzo and Pitino (Rick, Louisville) — who have coached in eight or nine Final Fours and have a couple national championships," Self said.
Indeed, Izzo has reached four Final Fours and won the 2000 NCAA title; Pitino has advanced to five Final Fours and won the 1996 NCAA crown.
"The other two coaches — Self and Pennell (Russ, Arizona) were on the same staff at Oklahoma State fighting to see who was going to get coach (Eddie) Sutton's laundry or dry cleaning," Self cracked.
On a serious note, Self said the Jayhawks had a productive practice before leaving Lawrence on Wednesday. He reported no cases of illness or any new injuries.
"Everybody's fine," he said.
He said it would not be a challenge in killing time before Friday's late tip.
"We don't have a ton of time here," Self said. "It's a Big Monday game that starts an hour and 40 minutes later. The worst thing about playing 9:40 (EDT) is for the winner. It will not make that big a difference Friday. It's Sunday (in regional final). After finishing media obligations (after Friday's game), coming back to the hotel and having dinner, the players being exhausted, they won't be down until 3 a.m. The same for Michigan State. The winner of our game will have a big challenge."
Nonetheless ...
"We are excited," Self said. "It's been a pretty intense year. It seems now we are so close, yet so far away (from Final Four). A majority of the best teams (in country) are still playing. We're excited to be one of them."
More like this story on KUsports.com