Feature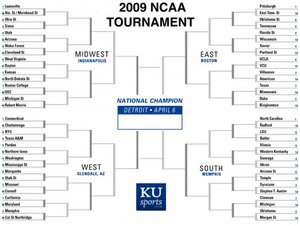 Get yer bracket on! Browse all brackets, check out out KUsports.com staff brackets, and check to see how your bracket's holding up after each match up is complete.
Michigan State basketball coach Tom Izzo has issued a challenge to his 2008-09 Spartans.
That is: To "Become Legendary."
The Detroit Free Press reported that MSU's video coordinators created a highlight video to share with the team prior to last Sunday's second-round NCAA Tournament victory over Southern Cal in Minneapolis.
It featured great moments in MSU history, including highlights of the 2000 national title team, and adopted the "Become Legendary" theme from Nike.
According to the Free Press, at the end of the video, the words, "Become Legendary" appeared on the screen.
"There are certain times when guys just step up and do heroic things," Izzo told the Free Press, admitting he grew emotional during the video. "We had a motivational tape about how to make yourself, make your team legendary. And I always talk about having memory-making moments."
Notes:
• '86 revisited: A classic game between KU and Michigan State took place in the 1986 NCAA Tournament.
The Jayhawks beat MSU, 96-86, in overtime in a Sweet 16 clash in Kansas City's Kemper Arena.
It's a game in which the Kemper Arena clock malfunctioned and stopped for about 10 seconds. That became critical when KU, which was down by six with 1:39 left, sent that game into overtime on a bucket with about 10 ticks to play.
"I have a few memories," said KU coach Bill Self, who was a graduate assistant on Larry Brown's staff. "I know coach Heathcote (Jud, Michigan State) was not real happy with the clock operator that day.
"Tom (Izzo, current MSU coach) was an assistant on that staff. I'm sure he'll get hit up about that, too (this week). That was a Sweet 16 game as well. There are a lot of similarities. I wish the game was in Kansas City like it was in '86," Self added.
KU went on to beat North Carolina State in the regional final and reach the Final Four. Heathcote and star player Scott Skiles long felt the Spartans might have won the national title if not for the clock mistake.
• Title golf tourney on tap: The Mario V. Chalmers Foundation will play host to the first annual National Championship Classic golf event on July 31 at Alvamar. It will bring back players from KU's 2008 national title team to play in the fundraiser. For more info or to sign up to play in the event, which has a 1 p.m. shotgun start, visit nationalchampionshipclassic.com.
The Mario V. Chalmers Foundation is a non-profit organization that promotes education through sports. The mission statement: "We strive to empower, inspire and enable youth to stay focused in the classroom, on the court and in all their endeavors. We encourage them to stay positive, give back to their communities and to always keep shooting for the stars!"
• Late start: KU guard Tyrel Reed doesn't think it's a big deal the Jayhawks must wait until 8:37 p.m., CST, Friday before taking on the Spartans at Lucas Oil Stadium.
"It's a late game. A team like ours ... college kids would rather have a late game than real early," Reed said. "We'll look at it as a positive playing so late."
More like this story on KUsports.com