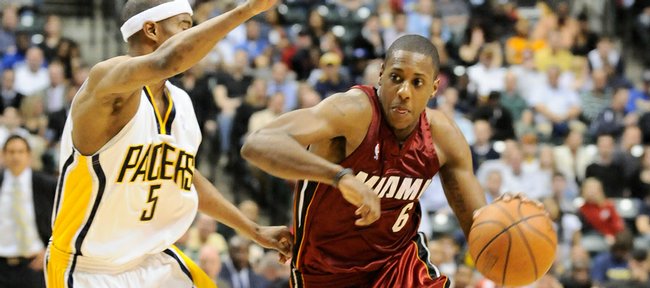 Indianapolis — Mario Chalmers might be a rookie, but he sure doesn't act like one.
Miami Heat forward Michael Beasley has seen it all in the locker room: Mario walking over to knock off a teammate's headphones. Mario getting up to kick a teammate's shoes to the side.
"He's bad, man," Beasley said with a grin. "I thought I was bad. I used to call myself, 'Dennis the Menace,' but he's giving me a run for my money."
The worst part, Beasley said, is that he has to stand up for his teammate and friend.
Chalmers sure makes it tough, though. Especially because the guys he's picking on are the "vets": fifth-year pro Udonis Haslem and 12-year NBA player Jermaine O'Neal.
"Those are the biggest guys on the team," Beasley said. "That's not cool."
Chalmers might be in the best basketball league in the world, but it seems that it hasn't shaken his faith in himself one bit.
"I think the most important thing was just being confident going in — I think just going in and trying to make a statement early," Chalmers said, "and prove that I belong."
Chalmers has done that so far.
He entered Wednesday's game fourth in the NBA in steals (1.93 per game). He has already set a Heat rookie record with 98 threes and is third among rookies in assists.
Heat coach Erik Spoelstra said he saw something uncanny from Chalmers from the first day of the NBA's summer league.
"He carried himself, almost to a fault, like a seven- or eight-year vet: 'Hey, I've been here, I've done that,' which he hadn't," Spoelstra said.
Beasley knows by now: That's just Mario.
The two first met about eight years ago at a basketball camp.
Chalmers didn't make the best first impression.
"I honestly didn't like him, because he had that swagger, that 'I'm better than everybody' swagger," Beasley said. "Outside looking in, you take it as cocky. I just didn't like him."
Beasley's opinion has changed over time.
"Once you get to know him, once you get a feel for his personality and his game," Beasley said, "you understand what it's about."
Though the second-round pick Chalmers wasn't supposed to be a part of Miami's immediate plans, he impressed coaches enough to start the Heat's opening game on Oct. 29, 2008.
He also has started all 70 games since then.
"I probably didn't want it this way preseason, but to be fair, he earned it," Spoelstra said. "I kept on trying to see if somebody else would take it, but when the lights came on and it really came time to compete and play in games, he played well, particularly early."
Spoelstra pointed out there was still room for improvement, noting that Chalmers would be a better player if he was more consistent and if he fouled less.
The biggest adjustment for Chalmers to the pros has been the switch to point guard. At Kansas, he primarily played shooting guard with Russell Robinson or Sherron Collins handling the point.
As for this year's Jayhawks, Chalmers said he wasn't surprised by their success.
"They're playing real good right now," Chalmers said. "Cole (Aldrich) and Sherron are leading the team, and that's what they need."
Chalmers said he was most impressed by the maturation of guard Brady Morningstar.
"Last year, he barely played. Learning from (Brandon) Rush and players like that made him a better player," Chalmers said. "I think Brady's stepping up a lot this year. I think he just needed the opportunity, and this year, he's getting his opportunity."
Though it hasn't happened often, Chalmers said he occasionally wondered how good the Jayhawks would be if he had stayed his senior season. He envisioned he'd have much of the same role on this year's team and guessed that the Jayhawks would have been, "Top five, definitely."
True to himself, Chalmers was confident in a prediction for Friday's KU-MSU game.
"It's going to be a payback game," Chalmers said. "Michigan State beat them pretty good the first time they played, so it's going to be a redemption game for KU."
More like this story on KUsports.com