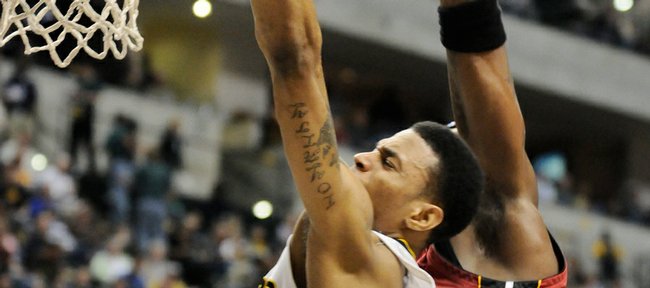 Indianapolis — Brandon Rush had the ball in the right corner and Dwyane Wade, one of the world's best basketball players, was guarding him early in the first quarter. Rush pump-faked, Wade bit, and the rookie from Kansas drove around him. He passed the ball to the top of the key, ran to the left corner, caught a pass, and hit that jumper of his that comes right out of the West Point textbook. Swish.
"Home run," the public address announcer bellowed.
Rush wouldn't hit another three-pointer in the Indiana Pacers' 90-88 victory against the Miami Heat, but he didn't let that keep him from contributing. Rush guarded Wade so well on the game's final shot — might Mario Chalmers have hit it if given the opportunity? — that Wade said he was "in my jersey."
Told Wade said that, Rush grinned a proud grin and said, "Is that what he said?"
Down two points, Wade went for the victory with a step-back three-point attempt that went in and out.
Wade, the NBA's leading scorer with a 29.9 average going into Wednesday night's game at Conseco Fieldhouse, made just five of 24 shots from the field and scored 21 points.
"I think I played pretty good defense on him," Rush said. "He's awesome. He's going to end up being MVP. I just challenged up on every shot he took and tried to stay in front of him. He's a tough player to play. I think I did a pretty good job on him, a solid job on him."
Of defending Wade's final shot, Rush said, "He kind of froze me a little bit 'cuz I thought he was going to give me one of those pump fakes (and) try to go to the free throw line. He ended up stepping back and it went in and out. He had a tough shooting night tonight."
The shot recalled Acie Law stepping back to hit a three-pointer from the right wing against Rush the last time Kansas lost a game in Allen Fieldhouse.
"Acie Law just gave me a quick fake and I jumped back real quick," Rush said. "Dagger all in my face."
Adapting to NBA life
Before Wednesday's game in which Rush totaled 11 points and eight rebounds in 41 minutes, he talked about life in the NBA, his "roller coaster" rookie season and the current Jayhawks, who watched the game from the stands.
Rush said Chalmers visited him Tuesday night in the downtown condo Rush purchased. (He also bought a Cadillac Escalade and an S 550 Mercedes.)
What does Rush miss about the college life?
"You don't have little college girls running around like you did at Kansas," Rush said. "That's the only change. Then not going to school. I didn't like that too much."
He didn't like it, but did get a 4.0 grade-point average in his final semester.
He also said he misses KU's homecourt.
"There's never going to be anything that's going to compare to Allen Fieldhouse," Rush said. "Sold out every time we stepped on the floor."
Even when he was riding the pine, though, Rush said he never regretted bypassing his senior year.
"It was the right time for us to come out," Rush said. "We won the national championship. What else could we prove, other than that?"
Still room for improvement
Rush was making his ninth start on Wednesday. He's averaging 6.6 points in 22.3 minutes.
Before the game, Pacers coach Jim O'Brien talked candidly about what he likes about Rush as a prospect and what he thinks he lacks.
"He had a little bit of a slow year, but he's starting to become a much more confident player," O'Brien said. "It was a matter of confidence. He's in a very affirming environment from the standpoint that you always have the green light to shoot open shots. And he's starting to show his ability at both ends of the court. We drafted him because he would be our best athlete and he is by far. We thought that he was a guy who could impact both the offensive and defensive end. His play over the last couple weeks has indicated that was the case. It's going to be a matter of finishing this year with consistency and then starting next year with consistency because we feel he's a an ideal guy to have opposite Danny Granger. ... We need to work as much as we can on aggressiveness. His personality is not one of aggressiveness, so it might be an uphill battle."
Teammate Travis Diener indicated the light recently switched on for Rush.
"I think it's day and night," Diener said, comparing the Rush of today to the rookie who arrived at camp. "I think when he first got here he was a little timid. His confidence might not have been where it had been at Kansas. I can tell just in the last two weeks how far he's come. His confidence is growing. He still could be more aggressive. He's a great shooter."
Thoughts on Collins, Aldrich
Rush said he is grateful for the three years he spent at Kansas and without them, he said, he would have had to work his way through the NBA Developmental League.
Asked if he would be surprised if Kansas sophomore center Cole Aldrich and junior guard Sherron Collins declared themselves eligible for the NBA draft, Rush said, "I wouldn't be surprised at all. Cole averages a double-double and Sherron's averaging 19. I think it's a perfect time to come out. They took a young team to a Sweet 16. I think they're ready for it."
NBA scouts see it another way, wanting Aldrich to return to add strength and still not completely sold on Collins, given he was outplayed by Syracuse's Jonny Flynn, Arizona's Nic Wise and Michigan State's Kalin Lucas.
When future Kansas players make it to the NBA they would be well-served to do what Rush did during NBA Orientation, avoiding the trouble former Jayhawks Chalmers and Darrell Arthur encountered along with former Kansas State star Michael Beasley.
"I was in my room, chilling, by myself, laying low," Rush said.
More like this story on KUsports.com