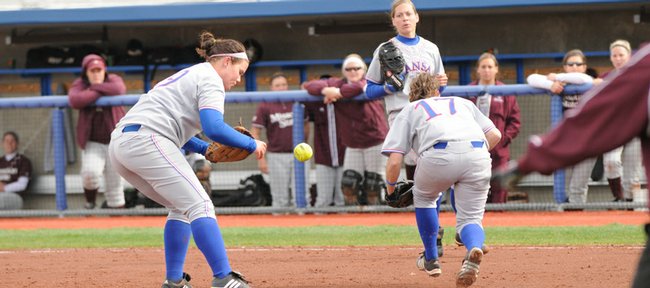 The softball mercy rule in college is set up to serve one purpose — to avoid any further humiliation by the losing team when the game clearly has become out of reach. The rule states that a game ends when one team holds an eight-run lead after any inning beyond the fourth.
Kansas University's softball team does not find itself facing the wrong end of that barrel often, but it nearly occurred in a 13-8 loss against mediocre mid-major Missouri State on Tuesday afternoon.
That fact did not leave KU coach Tracy Bunge in the best of moods afterward. Bunge did not emerge to speak with reporters until roughly 45 minutes after the completion of Tuesday's game. Instead, she voiced her displeasure with her team's performance with a lengthy postgame speech inside the locker room.
"Defensively, we stunk, and we did not pitch well," said Bunge, whose team allowed nine unearned runs and came within two outs of the dreaded run-rule in the fifth inning. "You get those two parts of the game that are that poor, this is what you're gonna get."
Kansas lost via the mercy rule once this season — against Stanford in the fourth game of the year.
But Stanford is a perennial softball power and entered that contest ranked No. 9 in the country. Missouri State, meanwhile, entered Tuesday's game with a less-than-stellar record of 12-12, which included a loss to Division II Southern Illinois University-Edwardsville.
In other words, getting run-ruled by the Bears at Arrocha Ballpark would have been beyond embarrassing for the Jayhawks.
"I think I would be crying right now," said KU's Allie Clark, who played left field and pitched on Tuesday.
Yet that was exactly the predicament Kansas faced following an awful top of the fifth inning. In that frame, KU relief pitcher Sarah Blair saw the first six batters she faced reach base and score. The Jayhawks committed back-to-back errors — two of their four on the day — gave up eight runs in total and trailed, 12-1, when it was all over.
"It was a big snowball out there," Bunge said. "It was mistake-driven, and we did not play with any energy, passion and confidence until we were about to be run-ruled."
Kansas demonstrated some reserves of character when, two outs from mercy-rule defeat in the fifth, the team finally pieced together a small rally.
"When we went up to bat, I was like, 'We're not going to let them run-rule us,'" said right fielder Liz Kocon, who singled in the fifth to trim the deficit to 12-4 and homered an inning later. "We were already embarrassed enough."
Clark then registered the Jayhawks' fifth straight hit in the inning with a blooper to center that cut the margin to 12-5 and kept the game going to the full seven innings.
The Jayhawks batted .290 for the game (9-for-31), but eight of their nine hits occurred after they already trailed by double digits.
Those nine hits are significant for this reason: Kansas is batting just .238 as a team this season, by far the worst average in the Big 12. Iowa State is next-to-last with a .259 average.
More like this story on KUsports.com