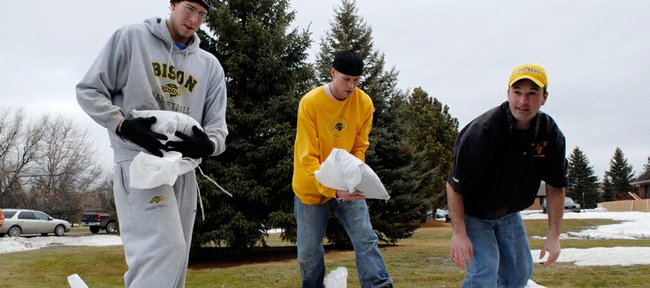 After battling the Kansas Jayhawks, members of the North Dakota State men's basketball team returned to campus and found themselves taking on another challenge: fighting the threat of flooding.
Bison players and coaches are among the thousands of Fargo-area residents who have teamed up to help prevent and minimize flooding along the Red River and its tributaries. They filled sandbags Tuesday and helped build dikes in Oxbow and Briarwood south of town.
Classes have been canceled on campus since Monday, and the river is expected to crest this weekend.
"This is a no-brainer for us," said Saul Phillips, head basketball coach, in a statement. "People need help, and we've got able-bodied guys. Anybody that has been around our program knows how well the community supported us, and they need us now. They've got us."
Thousands of North Dakota State fans had traveled last week to the Metrodome in Minneapolis, where they cheered the Summit League champions during their first-ever first-round NCAA Tournament game Friday against KU.
The Bison lost the game, 84-74, but the seven players and four coaches who lined up this week to help protect a home from flooding figured that they were returning the favor for such ongoing dedication.
"The people of this area have done so much for us through the years," said Lucas Moormann, a senior center from Dickinson, N.D. "As we saw down at the NCAA Tournament, we have a ton of fans. This is one way to give back to them and help the community."
As they have been all week, Thursday's classes already have been canceled to allow students, faculty and staff to continue assisting with sandbagging efforts. Public schools canceled classes Wednesday, a day after excusing high schoolers and eighth-graders from classes and sending them by bus to sandbagging locations.
"The mayor already has said that it's the students who are saving the city," said Najla Amundson, a university spokeswoman.
More like this story on KUsports.com