Feature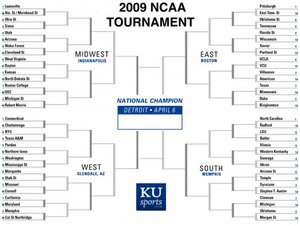 Get yer bracket on! Browse all brackets, check out out KUsports.com staff brackets, and check to see how your bracket's holding up after each match up is complete.
Way to strip a lot of the fun and intrigue from this season's March Madness, NCAA Tournament selection committee.
Not only did it give some of the major conferences too many invites to the Big Dance, but the committee left some very good mid-majors on the sidelines. Now we have a Sweet 16 that's not as appealing as it has been in recent years, thanks to you. The top three seeds from every region advanced to the third round.
No Cinderellas this time. And do you know why?
Because this season's version of Davidson is somewhere in the NIT, after only four mid-majors were given at-large berths to the NCAA Tournament. Instead, the selection committee chose seven teams from the Big Ten. Three didn't make it out of the first round, and only two Big Ten teams, Michigan State and Purdue, are still alive. The SEC doesn't even have a team to root for anymore. And only the lowest Pac-10 rep remains: Arizona, a No. 12 seed.
Meanwhile, the few mid-majors not only proved their own worth but also made a strong argument for schools such as St. Mary's and San Diego State that didn't get into the NCAA Tournament.
Western Kentucky dropped 76 points against Illinois, owner of the Big Ten's top-scoring defense (57.0 points allowed per game). Cleveland State held Wake Forest and the ACC's second-best scoring offense (79.9 points per game) to only 69 in a first-round upset. And only a Superman effort by Terrence Williams (24 points, 15 rebounds) helped No. 1 seed Louisville escape Siena.
No need for the Saints to frown. They outplayed Ohio State in Dayton, Ohio, to make it out the first round Friday. (I'm guessing that selection committee member and Ohio State athletic director Gene Smith didn't plan it that way.)
"A lot of people probably felt we were going to play the games in the 50s," said Siena coach Fran McCaffery after Sunday's 79-72 loss to Louisville. "But that's just not how we play. We're always going to be in attack mode. We're going to attack pressure. We're going to attack zones. We're going to attack man-to-man, and we're going to press you."
The fact that a team named Siena — you have no idea where the school is without using the Internet — can tussle with the top team in the NCAA Tournament for nearly 40 minutes makes the NCAA tournament a great method for crowning a champ.
None of the mid-majors made it to the Sweet 16, but then the odds were certainly against them.
This weekend's Sweet 16, however, still offers all of the necessary ingredients for some good ol' fashioned basketball stew.
Still, the selection committee's failure to include more mid-majors comes at a price. The casual fan doesn't have as many reasons to care this year. Last season's NCAA Tournament made history with all four No. 1 seeds going to the Final Four.
But Davidson's Stephen Curry still managed to become a household name, party with LeBron James and take his squad on one of the most fascinating journeys in recent NCAA Tournament history. When more mid-majors are included, we all benefit.
With few underdogs, the NCAA Tournament is potentially missing out on some great story lines that draw everyday people to their TVs to watch college basketball.
Where's George Mason when you need it?
More like this story on KUsports.com