Feature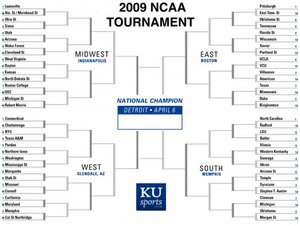 Get yer bracket on! Browse all brackets, check out out KUsports.com staff brackets, and check to see how your bracket's holding up after each match up is complete.
Bill Self gave his Sweet 16-bound Kansas University basketball players a well deserved day off Monday.
It was business as usual for KU's sixth-year coach, however.
Of course, he spent time working on his game plan for Friday's foe, Michigan State, while also making the rounds on ESPN's First Take TV and Doug Gottlieb radio shows.
"To me, getting in the NCAA Tournament is great, but to really receive the benefit of the NCAA Tournament, you've got to get to the second weekend," Self said of gaining exposure for his program.
"They are talking about 65 teams the first weekend. Now they are talking about 16. We are in the game — the hunt. That's all I can ask."
His No. 3-seeded Jayhawks will meet No. 2 seed Michigan State in a Midwest Regional semifinal at approximately 8:37 p.m. Friday in Lucas Oil Stadium in Indianapolis.
MSU stopped KU, 75-62, on Jan. 10 in East Lansing, Mich.
"We've got to be hard to guard from all five spots. We can't be a team you can just focus on two areas. Those teams get easy to guard over time," Self said of needing more production from players not named Cole Aldrich and Sherron Collins.
"It puts too much pressure on two guys that they have to play great. We need to get consistent play from everybody."
Also, Self is stressing rebounding.
"We have to do a fabulous job on the glass. It's one area other than Cole we are not terrific at," Self said. His Jayhawks were outrebounded 42-31 in that first meeting at MSU.
"Michigan State historically is as good or maybe the best rebounding team in America over the last 10 years since Tom (Izzo) has been there. They are plus-11 (rebounding margin) this year.
MSU coach Izzo — like Self, he appeared on ESPN on Monday — believes the Spartans (28-6) will have their hands full in the rematch versus KU (27-7).
"What Bill has done with that team is remarkable," Izzo said.
Izzo believes any of the four teams assembling in Indy could advance to the Final Four.
"I like Kansas. They are looking good, getting better every game," Izzo said. "Who knows what will happen in the Arizona-Louisville game? Those two teams are also playing very well. We've got a lot of work to do, but it's fun to be in the hunt."
More like this story on KUsports.com