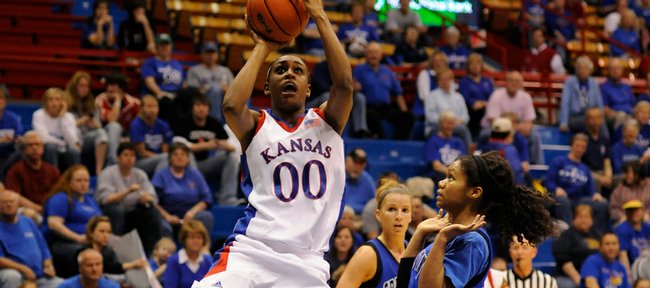 Her name contains 16 letters, but it really takes a 17th to describe Aishah Sutherland.
"She's our X-factor," teammate Ivana Catic said. "It's no secret that when she plays well, we play well."
Sutherland scored a career-high 15 points and matched her career-high with 12 rebounds to help Kansas spill Creighton, 79-64, in a WNIT basketball game Monday night in Allen Fieldhouse.
Sutherland, the only active freshman on the Jayhawks' roster, was a zero factor during the first semester. In fact, she never left the bench when KU and Creighton tangled in mid-December in Omaha, Neb.
"Why didn't she play up there?" KU coach Bonnie Henrickson said. "Probably two handfuls of reasons."
Mostly, it was Sutherland's lack of focus, particularly in practice.
"I messed up a lot," said Sutherland, a 6-foot-2 forward from Perris, Calif. "I wanted to play, but I wasn't ready."
Finally, when conference play began in January, Henrickson bit the bullet, realizing she needed Sutherland's athleticism on the floor, especially when starting center Krysten Boogaard was struggling.
"I know if Boogaard isn't playing well, I'll go in," Sutherland said, "and if I'm not playing well, I'll come out."
Boogaard wasn't playing very well early Tuesday night so Henrickson stuck with the SOP and sent Sutherland to the scorer's table.
"It's usually pretty obvious early when she's dialed in," Henrickson said.
So accurate was Sutherland dialing the right number that she logged 32 minutes, tying another career high, while sparking the Jayhawks (19-13) to the most wins they've compiled since the 1999-2000 season.
Kansas isn't done, either. The Jayhawks will take a shot at the 20-victory plateau when they entertain Arkansas at 7 p.m. Thursday in a WNIT third-round game.
"(Sutherland) is long and a little bit stronger than I thought she was," said Creighton coach Jim Flanery, whose team finished with a 22-12 record.
Sutherland wasn't the whole show, however. Danielle McCray displayed the form that earned her first-team All-Big 12 honors with 25 points and 13 rebounds, and Sade Morris chipped in with 21 points, just three shy of her career high.
"We really didn't have a matchup for McCray," Flanery said.
McCray, incidentally, was guarded mostly by Megan Neuvirth, who was voted the Missouri Valley Conference defensive player of the year. Neuvirth, also an MVC first-team selection, struggled offensively, too, by missing 14 of 17 shots. The 5-11 junior was also charged with six turnovers.
With Sutherland making seven of 10 shots and Morris seven of 12, Kansas shot a sizzling 54.1 percent (33 of 61). The Jayhawks blew it open during the last 10 minutes of the first half when they outscored the Bluejays, 23-6, to post a 38-21 halftime lead.
"We talked that we weren't going to quit down 17 at the half," Flanery said, "and we didn't."
KU expanded its halftime bulge to as many as 21 points early in the second half before Creighton rallied to close within nine points a couple of times before the Jayhawks pulled away.
"There was a little drama when they cut it to nine," Henrickson said, "but give our kids credit. We answered."
More like this story on KUsports.com