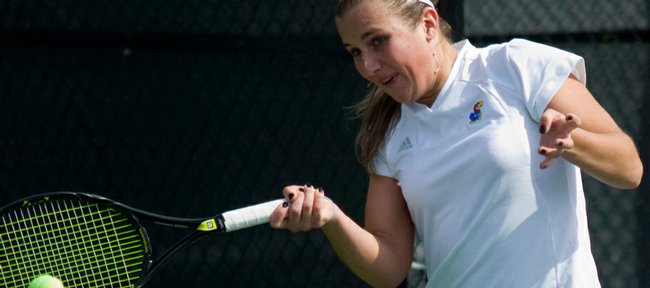 Coach Amy Hall-Holt wasn't all that thrilled with the performance of her Kansas University tennis team in its 5-2 loss to Missouri on Sunday at First Serve Tennis Center.
But at least she's finally starting to reap some rewards, however small they may be, on her doubles pairing plan — one finally based more on personal preference than necessity.
Hall-Holt, KU's sixth-year head coach, entered this season knowing she would have a roster filled with foreign-born players, some of whom came from the same country.
So, she planned accordingly.
Senior Edina Horvath spent the fall and first half of the spring season playing with fellow Hungarian teammate Kunigunda Dorn.
And Russian freshman Kate Morozova learned the ropes from her Russian teammate, Yuliana Svistun.
Hall-Holt said tennis players in junior leagues rarely play doubles, so it was important to help a player such as Morozova understand its intricacies early on in the college season.
"What we did was try to pair them together so they could explain it and flow better," Hall-Holt said.
But Hall-Holt sensed a switch was needed for the good of the team following back-to-back road losses last month, so she decided to make a move in early March.
She paired Horvath with Morozova at No. 1 doubles. And on Sunday, the two played with poise and resolve, providing a rare bright spot in an otherwise gloomy Border Showdown for Kansas.
The pair breezed to an easy 8-2 doubles victory against Missouri's Mallory Weber and Jamie Mera.
More like this story on KUsports.com