Feature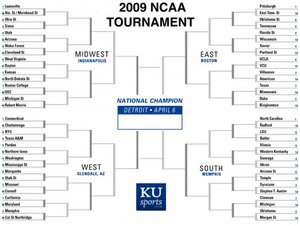 Get yer bracket on! Browse all brackets, check out out KUsports.com staff brackets, and check to see how your bracket's holding up after each match up is complete.
Dayton, Ohio — Pittsburgh powered its way to a familiar place.
Sam Young, the Panthers' poet in motion, scored 32 points and DeJuan Blair added another double-double as top-seeded Pittsburgh advanced to the round of 16 for the fifth time in eight years with an 84-76 win over Oklahoma State on Sunday.
Pitt (30-4) will play Xavier in the East Regional semifinals in Boston on Thursday.
Obi Muonelo scored 19 points for the eighth-seeded Cowboys (23-12), who gave the Panthers all they could handle before losing their touch in the final minutes. Oklahoma State made 10 3-pointers in the first half but made only two of 12 from long range after halftime.
The Panthers, who played poorly and barely escaped a first-round upset against No. 16 seed East Tennessee State, showed a champion's poise down the stretch.
The Cowboys tied it 74-74 with 2:42 left on an inside shot by Marshall Moses and the basket had the University of Dayton Arena fans, including some of Pitt's Big East brethren from Louisville, thinking they might see the tournament's first No. 1 seed go down.
But Pitt's pudgy point guard Levance Fields drove for a layup, and after OSU's James Anderson missed a 3-pointer, Fields dropped a 3 from up top to make it 79-74 with 1:27 left.
Byron Eaton's two free throws got the Cowboys within 79-76 and it looked like Oklahoma State would get the ball back when Fields missed a long jumper and the ball caromed high in the air.
Blair, though, wanted it more.
The powerful 6-foot-7 forward rose up and snatched the board with his massive hands and dropped it off the glass to give Pitt an 81-76 lead with 40 seconds left.
Oklahoma State, which shot 63 percent in the first half, couldn't get another shot to fall and the Panthers put it away at the line.
After the final horn, there was little celebrating by Panthers, who calmly lined up to shake hands with the Cowboys.
Pitt has unfinished business in this tourney.
"It's a tough bracket we're in," said Blair, who finished with 10 points and 12 rebounds. "We're just fighting through it."
Terrel Harris scored 17 and Eaton 15 for Oklahoma State.
More like this story on KUsports.com