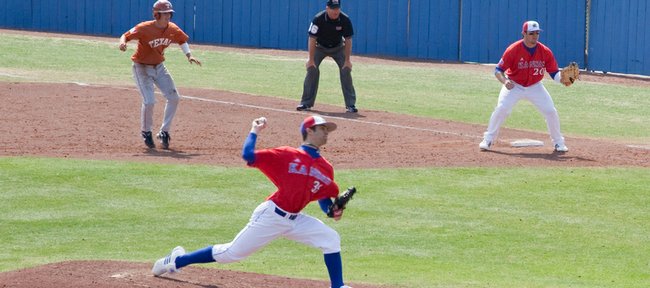 Photo Gallery
KU baseball handles No. 1 Texas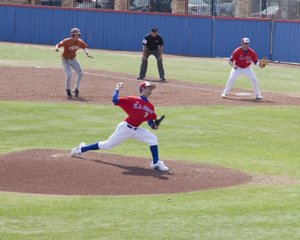 Kansas junior Robby Price delivered the game-winning RBI single in the bottom of the seventh, helping the Jayhawks to a come-from-behind, 4-3 victory over No. 1 Texas on Saturday at Hoglund Ballpark.
Having been regularly thrown into the fire during his four years as a Kansas University pitcher, Paul Smyth, by his own account, is not easily affected by the pre-game jitters that have been known to afflict players of lesser tenure.
Of course, there are certain opponents, he admits, that tend to, uh, get his heart beating a little faster than others.
As the Jayhawks' senior closer put it Saturday afternoon at Hoglund Ballpark, "Texas is one of the teams that I get more amped up for than anybody else."
If there were any extra nerves during Saturday's matchup with the top-ranked Longhorns, however, they were not immediately apparent. For the second time in two days, Smyth entered the ninth inning with a one-run lead and managed to hold on against a lineup ripe with talent, as the Jayhawks topped Texas, 4-3, to win their second straight over UT.
After enduring a couple of early-season road bumps —the most recent coming last Wednesday when he gave up the game-winning run in the Jayhawks' 9-8 setback against San Diego State — Smyth has managed to rebound in a big way since the Texas series began Friday.
And in doing so, he has helped the Jayhakws ensure their first series victory over a top-25 opponent since 2006.
"As a closer, I've kind of learned that the next outing, regardless of what it is, has to wipe the slate clean," Smyth said of his ability to bounce back from rough games. "Like I've talked about before, you've got to have a short memory with everything."
Before Saturday's slate could be wiped clean, though, Smyth was forced to show some resolve after putting himself in a sticky situation. After retiring the first two batters he faced in the top of the ninth inning, he gave up an infield single to Travis Tucker and a double to Michael Torres, putting runners on second and third with two outs.
He then engaged in a lengthy dual with Texas No. 3 hitter Brandon Belt, who fouled off four two-strike pitches before eventually flying out to deep left field to end the game and mark the end of an encouraging day from the Kansas bullpen.
"I couldn't ask anything more," said KU coach Ritch Price of five relievers who combined to pitch 32⁄3 scoreless innings Saturday. "They're an outstanding offensive club. They battle and compete every pitch. It seemed like they had runners on base every inning from the sixth inning on, and we were able to get out of it."
The Longhorns (14-5, 2-3 in the Big 12) looked to be in good shape following a three-run home run from right fielder Kevin Keyes — his second of the series — that gave the Longhorns a 3-1 advantage in the top of the sixth inning.
But Kansas (12-7, 2-0) rebounded with a two-run bottom half of the inning when Jimmy Waters' single scored Buck Afenir and Tony Thompson and tied the game at 3.
An inning later, in a display indicative of the team's small-ball ethos, Kansas scored what would prove to be the game's winning run when David Narodowski singled to lead off, moved to second on a Brian Heere sacrifice bunt and then scored on Robby Price's single to center field.
Waters finished the day 1-for-3 with a walk and two RBIs offensively, while sophomore starter T.J. Walz gave up just three hits and three runs in 51⁄3 innings to outperform Texas standout Brandon Workman.
"We've got to win series to get into the Big 12 tournament," Robby Price said. "So obviously today was a huge, huge win. Now we've got to come out tomorrow and try to do something special for the weekend."
More like this story on KUsports.com