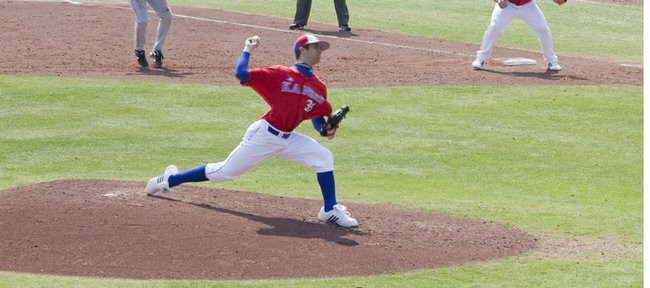 In the aftermath of the Kansas University baseball team's weekend performance against top-ranked Texas, it was hard to ignore the novelty of it all.
It was a series of firsts for the Jayhawks: The first victory over a No. 1 opponent since 1993; the first series victory over a ranked opponent since 2006; the first sweep of the Longhorns in school history.
For a program with considerable postseason aspirations, however, Sunday's series-ending 4-3 victory over Texas at Hoglund Ballpark represented a bit more than surface-level accomplishments.
"The fact that they're No. 1 (according to) Baseball America makes it a really special weekend for us," KU coach Ritch Price said. "But to get off to a 3-0 start in Big 12 and be done with the No. 1 team in the country, that puts us in position now — if we take care of business — where we have a chance to accomplish something special."
After failing to qualify for the conference tournament the past two seasons, the Jayhawks have set their sights squarely on a berth in this year's tournament. And in the wake of a three-day stretch in which they outpitched, outhit and outfielded one of the nation's most storied programs — while jumping to a 3-0 conference record for the first time since the Big 12's inception in 1996 — they received a significant boost in that regard.
"To fend off the losses that most people predict against Texas, to wipe those clean and to also add three conference wins like that ... it sets you up to finish in the top five in conference," said KU closer Paul Smyth, who recorded three straight saves against UT (14-6, 2-4 in the Big 12) over the weekend.
As they did in the series' first two games, the Jayhawks built an early lead Sunday, watched it disintegrate, and then managed to come through when it mattered, this time by manufacturing the game's winning run in the bottom of the seventh inning.
After Kansas' Brian Heere doubled to right field to lead off the inning — moving to third on a Robby Price sacrifice bunt — Buck Afenir brought him in on a sacrifice fly to center field that put the Jayhawks up 4-3, a lead that wouldn't be relinquished as Kansas effectively established itself, at least for the moment, as a factor in the Big 12 title hunt.
The Jayhawks (13-7, 3-0) took their first lead in the bottom of the fourth inning, scoring three runs on four hits to knock Texas starter Cole Green out of the game after just three innings.
The Longhorns responded with one run each in the next three innings.
But a solid combined outing by KU's bullpen (2 1/3 innings, one hit, no runs) held Texas scoreless the rest of the way.
More like this story on KUsports.com