Feature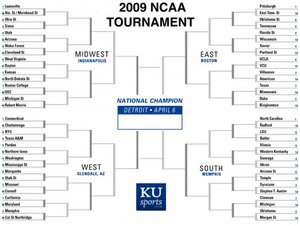 Get yer bracket on! Browse all brackets, check out out KUsports.com staff brackets, and check to see how your bracket's holding up after each match up is complete.
With Syracuse's season on the cusp of slipping away, Eric Devendorf picked the perfect time to be at his best.
Devendorf hit a pair of 3-pointers less than a minute apart to snuff out a big Arizona State rally, and the third-seeded Orange held on for a 78-67 win over the sixth-seeded Sun Devils in a South Regional second-round game Sunday.
Devendorf finished with 21 points and Andy Rautins added 17 for Syracuse (28-9), which moves on to play second-seeded Oklahoma (29-5) in Memphis on Friday, a spot in the regional final against either North Carolina or Gonzaga at stake for the winner.
Rihards Kuksiks scored a career-high 20 points, and Ty Abbott also finished with 20 for Arizona State (25-10), which struggled mightily against Syracuse's zone and led for only 31 seconds all afternoon.
Rick Jackson scored 13 points, Arinze Onuaku added 12 and Jonny Flynn — playing with a wrap on his left biceps — scored 11 for Syracuse, which has won nine of its last 10 games.
James Harden, the Pac-10 player of the year, was held to 10 points — all in the second half — on 2-for-10 shooting for Arizona State.
Down by as many as 15 in the second half and still trailing by 12 after Jeff Pendergraph fouled out with 10:19 left, the Sun Devils sprung to life.
A 10-2 spurt over the next 4 minutes ended on Abbott's 3-pointer, and suddenly, Syracuse's once-comfortable lead was only 61-57.
Just as quickly, Syracuse's best two shooters had a rebuttal.
Rautins hit a 3, and after Eric Boateng made two free throws for Arizona State, Devendorf connected twice from long range within a span of 37 seconds. He made the second from the left corner, posed for a second or two after the ball went through the net, and Syracuse's margin was quickly back to 70-59 with 4:04 left.
The outcome wasn't in doubt again.
The win was the 799th for Syracuse coach Jim Boeheim, who also moved into a tie with former Louisville coach Denny Crum for seventh in all-time NCAA tournament coaching wins with 42.
His first chance at No. 800 — perhaps fittingly — comes with a spot in the Elite Eight on the line.
It'll be the first Syracuse-Oklahoma matchup since the 2003 East Regional final, when Carmelo Anthony and the then-Orangemen prevailed 63-47 on the way to the national championship.
Syracuse and Oklahoma have two common opponents this season. Both beat Coppin State, and the Orange also defeated Kansas — which downed the Sooners 87-78 last month, albeit when Oklahoma was without forward Blake Griffin because of a concussion.
Arizona State was within 41-32 at halftime, and likely felt fortunate the game was that close.
Boeheim says opponents often struggle when seeing Syracuse's 2-3 zone for the first time, and he was proved right in the first half. The Sun Devils' two leading scorers, Harden and Pendergraph, were a combined 1-for-7 from the floor in the opening 20 minutes, the only basket between them being a dunk by Pendergraph with 46 seconds left.
Coming off a 1-for-8 effort in Friday's first round win over Temple, Harden started ice cold again. He was 0-for-4 in the half, not even getting a shot in the first 9 minutes.
And everything — well, not quite, but darn close to every shot Arizona State could get in the opening half was a 3-pointer, as Syracuse's zone clogged all ways for the ball to get near the rim. The Sun Devils had 26 shots in the first 20 minutes, with only six of those coming from inside the arc.
If it wasn't for Kuksiks going 5-for-9 on 3-pointers in the half, it could have quickly been a Syracuse rout.
The Orange held Arizona State without a field goal for nearly 6½ minutes in one stretch of the first half, using a 15-5 run — capped by a pair of 3-pointers from Rautins — to take a 26-15 lead with 6:38 left. Another long jumper by Rautins with 2:40 remaining put the Orange up by 15, before the Sun Devils scored eight of the final 11 points before intermission.
More like this story on KUsports.com