Feature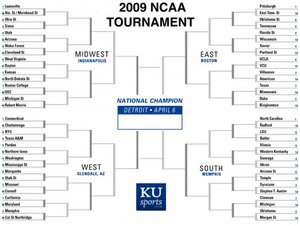 Get yer bracket on! Browse all brackets, check out out KUsports.com staff brackets, and check to see how your bracket's holding up after each match up is complete.
Greensboro, N.C. — No one has ever doubted Ty Lawson's talent, speed or ability to take over a game for North Carolina. Maybe now Lawson won't hear so many questions about whether he's tough enough, too.
Lawson scored 21 of his 23 points after halftime in his return from a toe injury, and his three-point play sparked the decisive second-half run as North Carolina held off LSU 84-70 in the South Regional on Saturday.
Wayne Ellington scored 23 points to lead the Tar Heels (30-4), who ran off 11 straight points in a tie game to take control and move on to next week's regional semifinals in Memphis, Tenn. North Carolina will face Gonzaga on Friday.
North Carolina came into the season as everybody's pick to win the national championship. That goal would likely be over by now if not for the player coach Roy Williams has dubbed "Dennis the Menace" for his playful antics in practice.
"I've kidded the little fella, called him Dennis the Menace, and that's exactly who he is," Williams said. "But I've never seen Dennis the Menace as tough as I saw him today."
Lawson had missed the past three games after he jammed his right toe in practice two days before the regular-season finale against Duke. Coach Roy Williams had said he had to get through practice Friday, experience no swelling later that night and get through pregame warmups to play.
Fans greeted him with a loud roar that drowned out his name during starting lineups, but the speedy junior didn't look like he was at 100 percent early on. He seemed hesitant when pushing the ball up the floor, and at one point in the first half came out of the game, took off his shoe and was in obvious discomfort while a trainer looked at him on the bench.
But the Atlantic Coast Conference player of the year got better as the game wore on, helping the Tar Heels rally from a five-point deficit midway through the second half to beat the eighth-seeded Tigers (27-8).
"It took me a minute to feel (the pain) out, because on defense it was hard to slide and things like that," Lawson said. "I had to figure where I could get my points at, and where I could drive and where it would feel good on my foot. It's a little sore — it's swelling up as we speak right now."
Lawson finished 7-for-13 from the floor to go with six assists and no turnovers in 31 minutes.
"Sometimes he does limp around and act soft, but I know how tough he can be," senior Danny Green said. "When the game's on the line, big-time players step up and do big-time things."
With the win, North Carolina tied Kentucky for most NCAA tournament victories (98) and improved to 27-1 all-time in NCAA games played in its home state. The Tar Heels have also won at least 30 games for the third straight season, a first for the storied program.
Marcus Thornton scored 25 points to lead the Tigers, who gave the Tar Heels everything they could handle even while playing in front of a hostile crowd that was at least two-thirds full of light blue. But in the end, North Carolina — a veteran team trying to return to the Final Four — had just enough to hang on.
"They didn't think they were going to lose," LSU coach Trent Johnson said of his players. "It shouldn't have ended like this. It really shouldn't have."
Ellington also had a strong day, going 9-for-16 despite being defended much of the way by Garrett Temple, who had notably shut down national player of the year J.J. Redick during the Tigers' upset of Duke during his freshman year in 2006. Ellington also came up with a key play during the decisive run, tapping the ball away from a defender to Green, who buried his only 3-pointer of the day.
Meanwhile, Tyler Hansbrough had 15 points but just one second-half field goal. He also needed treatment at one point for a small cut above his left eye during a scrap inside.
With the Tar Heels leading 64-63, Lawson split two defenders after a turnover and drew a foul while lobbing a shot to the rim. The ball hung there for a moment before dropping through, a three-point play that put North Carolina ahead 67-63.
After Green's 3, Lawson made another eye-popping move. This time, he lost Bo Spencer with a quick crossover dribble, drove into the paint and hit a double-pump hanging layup over the outstretched arm of 6-foot-11 Chris Johnson to push the lead to nine.
Hansbrough followed with a jumper to make it 74-63 with 4:45 left, a comfortable margin the Tar Heels didn't let get below nine the rest of the way.
North Carolina shot 54 percent, but also helped itself by dominating the boards for the final 13½ minutes. LSU held a 31-17 advantage at one point, but North Carolina started coming up with every critical one during the second half and ended up being outrebounded just 33-32.
Freshman Ed Davis was key in that effort, finishing with nine points and seven rebounds off the bench.
North Carolina led 38-29 at halftime, but the Tigers erased the deficit in a hurry. Tasmin Mitchell scored six quick points by taking the ball right at Deon Thompson, part of six straight scoring possessions by the Tigers that gave them a 42-41 lead on Thornton's transition layup.
That grew to 54-49 on a 3-pointer from Temple with 12½ minutes left, but the Tigers — playing in the NCAA tournament for the first time since a Final Four run in 2006 — couldn't close out Lawson and the Tar Heels.
"He's a great player, even when he's injured," Thornton said. "He's still effective because he's the head of the team. Whenever they go, he makes them go."
More like this story on KUsports.com