Feature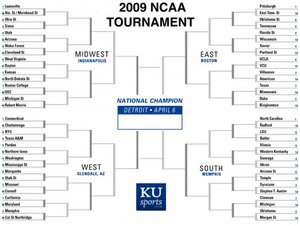 Get yer bracket on! Browse all brackets, check out out KUsports.com staff brackets, and check to see how your bracket's holding up after each match up is complete.
Philadelphia — Rollie Massimino sat on the edge of his seat, rooting on his former team from behind the bench. By the end, he was leaning back in his chair and soaking it in.
No need to sweat this one out, Coach. The Wildcats had it all the way.
Dante Cunningham scored 18 points Saturday, helping Villanova reach the round of 16 for the fourth time in five years with an 89-69 victory over UCLA that ended the Bruins' bid for a fourth straight Final Four appearance.
"That was a fun game to be a part of," Villanova coach Jay Wright said. "We have so much respect for the UCLA tradition. They are tough. To get to three straight Final Fours is amazing. You get fired up to play a team like that."
Corey Fisher and Reggie Redding each had 13 points for the third-seeded Wildcats (28-7), who will play the Texas-Duke winner in the East Region semifinals in Boston.
Josh Shipp led UCLA with 18 points and Darren Collison had 15. It's the earliest exit for the sixth-seeded Bruins (26-9) since a first-round loss in the 2005 NCAA tournament.
"They did a good job spreading us out and they're a very good shooting team," Bruins coach Ben Howland said. "They did a good job of attacking the rim. I think they have a real chance to move forward in this tournament."
Backed by a raucous, hometown crowd at their off-campus home, Villanova jumped on UCLA early and hardly let up. A 19-2 run that started five minutes in put the Wildcats ahead 28-11 before the midpoint of the first half.
When Corey Stokes hit a 3-pointer to cap an 11-0 spurt, the building erupted. Even some Texas A&M; fans stood and cheered. The Aggies played Connecticut in the second game of the doubleheader.
UCLA finally ended the run after a time-out, but Stokes hit another 3 and Redding nailed one, too. Dwayne Anderson's jam capped the run, giving Villanova a 17-point lead.
"We kind of jumped on them and set the tone early," Fisher said. "That was huge. We always say it's about 40 minutes of basketball. We didn't want to let up when we got a lead. I don't think we did. We had a lot of intensity from the start of the game to the end."
The Bruins spent the rest of the half trying unsuccessfully to cut the margin to single digits. Each time it seemed they were inching closer, Villanova answered with a big shot.
Scottie Reynolds hit a 3 for his first basket, ending a mini-run. Then, Fisher threw a perfect pass underneath to Shane Clark for an easy dunk that gave the Wildcats their biggest lead of the half, 38-19.
UCLA scored the next seven points, but Reynolds answered with another 3 after two offensive rebounds following long misses by the Wildcats. That possession clearly illustrated Villanova's toughness inside. The 'Cats then smothered UCLA at the opposite end, forcing a poor shot that missed as the shot clock expired.
The combination of tight defense, physical play and excellent shooting was too much for UCLA. Villanova led 44-31 at halftime, and it turned into a rout in the second half with the Wildcats leading by 25 at one point. That allowed the usually intense Massimino to relax a bit.
Massimino coached Villanova to an upset victory over Georgetown in the 1985 national championship game. He gave Wright a big hug shortly before tip-off and enthusiastically watched from his second-row seat.
Perhaps Massimino passed on some of that magic the '85 team had during its unlikely run: The Wildcats tied a school record for most wins in a season, and it was the 100th victory for their senior class.
"He's always telling me to be loose, lighten up, love them up and let them go," Wright said of Massimino's advice. "I worked with him seven years. He wasn't like that. He's kinder and gentler now."
This was expected to be a close, low-scoring game. Unlike typical Pac-10 teams, UCLA was supposed to compete with Villanova's physical style. After all, Howland came from the same Big East Conference and instilled a defense-first system.
But Villanova dominated UCLA in every facet. The Wildcats had a 41-29 edge in rebounding and forced 20 turnovers.
"We pride ourselves on coming out and setting the tone and letting them know they're going to be in for a battle," Redding said.
Collison didn't like the nature of some fouls the Wildcats dished out.
"I was talking to the official because I thought they were fouling too hard," Collison said. "They were a physical team. It's nothing we haven't seen in the Pac-10. We've played a lot of physical teams in the Pac-10."
Villanova not only played like the more talented team, it also had a real home-court advantage. The Wildcats play some of their regular-season games at the Wachovia Center, a short distance from their pristine, suburban campus.
There were some sections of neutral fans and a contingent of Bruins supporters, but an overwhelming majority wore navy and rooted hard for their beloved 'Cats.
The schools hadn't met in the postseason since the 1971 national title game. John Wooden's Bruins beat the underdog Villanova 68-62. Jack Kraft, who coached those Wildcats, also watched this one from the stands along with a few members of that team.
"I think it's cool to be talking Villanova basketball 30 or 40 years after you've left," Anderson said. "I hope to be in that position one day. It means we're part of a family tradition here at Villanova."
More like this story on KUsports.com