Feature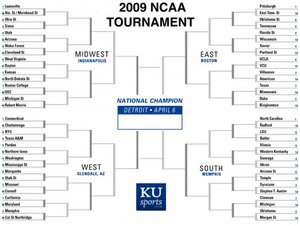 Get yer bracket on! Browse all brackets, check out out KUsports.com staff brackets, and check to see how your bracket's holding up after each match up is complete.
The first round of the 2009 NCAA Tournament is in the books, and jayhawk4life1 leads all contestants in the KUSports.com Bracket Challenge. They have 30 points, meaning they only missed two games in the first round. Perhaps the biggest upset of the tournament, (13) Cleveland State defeated (4) Wake Forest to All of their Sweet Sixteen teams are still in the mix as well.
Five contestants are tied for second with 29 points, including bil, ibrown3, kuhndog45, pwedel and Ryan2845.
More like this story on KUsports.com