Feature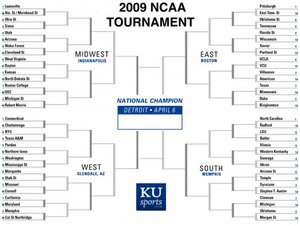 Get yer bracket on! Browse all brackets, check out out KUsports.com staff brackets, and check to see how your bracket's holding up after each match up is complete.
Greensboro, N.C. — Jon Scheyer was falling out of bounds when he made a heady play to keep one loose ball alive. David McClure tipped another one to a teammate to deny Texas a last chance.
Because Duke is doing all the little things right, some of the biggest things remain very real possibilities.
The Blue Devils made every clutch play in their 74-69 victory over the Longhorns on Saturday night in the East Regional, propelling them into the second weekend of the NCAA tournament for the first time since 2006.
"Kind of a theme of our team is the role-playing guys. ... They've done a great job over the last couple of weeks of making the (difficult) plays," forward Kyle Singler said. "Just the little things that might go unnoticed. And those are the types of plays that they make."
Gerald Henderson scored 24 points and hit three free throws in the final minute, Singler added 17 points before fouling out late and Scheyer added 13 for the second-seeded Blue Devils (30-6). The Atlantic Coast Conference tournament champs and winners of five straight will face third-seeded Villanova (28-7) on Thursday night in Boston.
"These last two weekends have been so gratifying to me, because it's a culmination of a lot of work and commitment," coach Mike Krzyzewski said. "I've been a part of a bunch of championships — ACC, Final Fours, national championships. But to do it with this group feels great."
A.J. Abrams scored 17 points on 5-for-13 shooting for the No. 7 seed Longhorns (23-12), who rallied from a late 10-point deficit to tie it twice in the final 2 minutes — the last time coming when Gary Johnson's free throw with 1:07 remaining made it 69-all.
"We told our guys we would stick around ... and actually told them at 4 minutes we were right where we needed to be," Texas coach Rick Barnes said. "At no point in time did our guys really flinch and think they couldn't get back in the game."
Nolan Smith hit two free throws with 47 seconds left to put Duke up 71-69, and the Longhorns missed two chances in the final 40 seconds to tie it.
Damion James' 3-pointer over Henderson circled the rim and popped out. After Henderson added a free throw with 30.8 seconds left, Abrams missed a runner and James couldn't convert the follow-up. Then, as the rebound squirted toward the Texas bench, Scheyer went all-out to chase it down and hurl it down the floor to Elliot Williams.
"Those are plays that you think of Magic Johnson making," Krzyzewski said before turning to Scheyer and adding: "You never thought I'd compare you to Magic Johnson, right?"
Williams, a high-energy freshman, missed two free throws with 11.5 seconds left, and the rebound bounced off a Longhorn's fingers before McClure tipped it to Henderson, who pumped his fist as he hit the floor, then hit two foul shots with 7.2 seconds remaining to seal it.
Smith finished with 11 points for the Blue Devils, who shot 43 percent. They overcame the Longhorns' 50 percent shooting performance by forcing 15 turnovers and improved to 12-0 in NCAA tournament games at the Greensboro Coliseum — where their two most recent national title runs have started.
Now it's up to Henderson — a junior whose only previous NCAA tournament experiences have ended after one or two games — to keep the Blue Devils on a path toward another one.
It was clear that Duke's offensive game plan was almost exclusively Henderson. The swingman was 7-for-21 shooting while attacking the rim with regularity, drawing contact and knocking down 10-of-13 free throws.
"Down the stretch, I just rode him — we were going to sink or swim with him," Krzyzewski said. "We're swimming."
He also delivered a pair of highlight-reel drives to the basket to help the Blue Devils build their big lead.
Henderson accelerated down the left wing, leaped and dunked over Clint Chapman as he was being fouled. Two possessions later, he finger-rolled a pretty layup over Abrams to a stretch in which Duke outscored Texas 20-11.
Duke led 64-54 with 7 minutes remaining before Abrams and Varez Ward willed the Longhorns back into the game by keying a 13-3 run. Abrams reeled off five straight points, and Ward finished the spurt with eight in a row for Texas, tying it at 67-all by hitting a jumper over Williams with 1:44 remaining.
Ward, a freshman, scored a season-high 16 points in his second double-figure game of the year and James finished with 15 points. But Abrams was shadowed all night by Scheyer — who, at 6-foot-5, is 6 inches taller than the Texas sharpshooter — and seemed to have trouble getting open looks.
"I had to take some tough shots early on," Abrams said. "But as a group, I don't think they did anything special to stop me."
Texas has been beaten in the second round twice in three years, and the Longhorns became the second Big 12 team eliminated from the tournament. The conference finished the first round 6-0.
Meanwhile, Duke — one of only two ACC teams still playing — is headed back to some familiar territory.
Reaching the round of 16 never used to be a reason to celebrate after the Blue Devils made it at least that far every year from 1998-2006. But after they followed their first-round exit in 2007 with an equally surprising second-round loss last year, reaching the tournament's second weekend seemed to become a higher priority.
"Our standards have been so high, because in the past we've had teams that won," Henderson said. "Trying to uphold that standard, you know, we're not really going to worry as much about what people think. The biggest thing is just to win."
The weekend was a homecoming of sorts for Barnes, who grew up a 90-minute drive away in Hickory, once interviewed for a job on Krzyzewski's staff and spent four seasons at Clemson. His first victory against the Blue Devils came in 1995 — the last game Krzyzewski coached before he took a leave of absence for the remainder of that season to have back surgery.
This time, after Duke improved to 4-0 against Texas, it was Coach K who was the one sending Barnes into some extended time off — he's got the entire offseason to dwell on this defeat.