Feature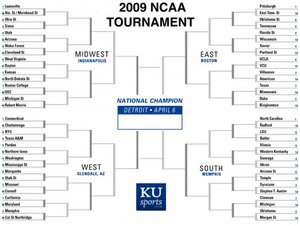 Get yer bracket on! Browse all brackets, check out out KUsports.com staff brackets, and check to see how your bracket's holding up after each match up is complete.
Portland, Ore. — Gonzaga's rowdy celebration spilled into the locker room, where the team watched a replay of freshman Demetri Goodson's game-winner and got to cheer again and again.
Goodson streaked down court and made a short, running bank shot with 0.9 seconds left, lifting the fourth-seeded Bulldogs over Western Kentucky 83-81 Saturday night in the second round of the NCAA tournament.
Gonzaga (28-5) advanced to the South Region semifinals to play top-seeded North Carolina on Friday in Memphis, Tenn. The Tar Heels defeated LSU 84-70.
"It's unbelievable for a freshman point guard, a big-time, big-time play," guard Micah Downs said. "He came down, read it perfectly, and then that's his shot. He practices it all the time."
Steffphon Pettigrew hit a tip-in for the 12th-seeded Hilltoppers (25-9) that tied it at 81 with 7.2 seconds left. But Goodson took the inbounds pass and went straight to the basket with little resistance, hitting from close on the left side.
"I drove left and there were two guys there, and the 'big' went with Matt (Bouldin). That opened up the lane so I just took it," Goodson said. "I was really surprised to get that look."
Western Kentucky, which made a surprise run to the regional semifinals last year, was led by Orlando Mendez-Valdez with 25 points. Coach Ken McDonald's signal for a timeout after Goodson's shot went unnoticed amid the chaos.
The Zags mobbed their freshman hero at center court, engulfing him in a leaping scrum. Coach Mark Few turned to a throng of Gonzaga fans behind the bench and pumped his fists in the air.
"That will go down as one of the biggest shots in Gonzaga history," said Jeremy Pargo, who had 18 points.
The Bulldogs were still leaping in the locker room when they replayed the final shot. They replayed it again to poke fun at their victory celebration.
Western Kentucky's locker room was a stark contrast. Guard Anthony Sally sat facing his locker for several minutes after the game, his head in his hands.
"It hurts," he said. "We came so far and it was right there."
This was the 11th straight victory for the Zags, who won the West Coast Conference regular-season title and tournament. The Hilltoppers won the Sun Belt Conference.
Josh Heytvelt's layup with 7:34 left made it 67-64, and he made a bank shot and free throw that put Gonzaga ahead 81-72 with 2:14 left.
Mendez-Valdez hit a 3-pointer to make it 81-77 with 1:30 to go. After a Zags turnover, Mendez-Valdez hit Pettigrew for a breakaway dunk with 58.7 seconds left that made it 81-79. Pettigrew's tip-in tied it.
Bouldin had 20 points and eight rebounds for Gonzaga.
A.J. Slaughter had 24 points for the Hilltoppers, who had won eight straight going into the game.
"It was just devastating, just the fact that it came down to the last possession," Mendez-Valdez said. "I didn't really get too emotional after the game until we got into the locker room when coach started talking. That's when I started to get emotional."
The Zags have made the round of 16 five times in the past 11 years — this is their first trip there since 2006. They burst onto the national scene in 1999 as scrappy mid-major underdogs who reached the final eight.
Last season Western Kentucky upset its way into the regional semifinals. As the 12th seed, the Hilltoppers first defeated Drake 101-99 on Ty Rogers' 30-foot buzzer-beater, then beat San Diego 72-63 before falling 88-78 to UCLA.
The Hilltoppers pulled off another upset on Thursday when they held off fifth-seeded Illinois 76-72 to advance. The Zags defeated Akron 77-64 on Thursday.
Western Kentucky took a first-half lead to 31-25 on Jeremy Evans' jumper. Gonzaga, the taller of the teams, struggled to keep up with the Hilltoppers' creative guards.
Heytvelt, Gonzaga's top scorer, did not score until a dunk that narrowed it to 35-32 with 2:10 to play before the break. Heytvelt was averaging 15.1 points.
Western Kentucky held on for a narrow 37-35 advantage at the break. Mendez-Valdez had 17 first-half points, including 5-for-7 on 3-point attempts.
Bouldin's layup and free throw to open the second half gave Gonzaga the lead, and Pargo added a 3-pointer to extend it.
Goodson said the last time he made that shot to win a game he was in fifth grade. But Few had no doubt.
"He is easily our best finisher around the rim. This kid just has a knack for making shots with contact over bigger guys," Few said. "We noticed it from Day One in our program."
Last season, Western Kentucky and Gonzaga played in the Great Alaska Shootout with the Zags coming out on top, 74-71. It was their only prior meeting.
More like this story on KUsports.com