Feature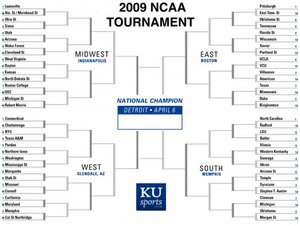 Get yer bracket on! Browse all brackets, check out out KUsports.com staff brackets, and check to see how your bracket's holding up after each match up is complete.
Kansas City, Mo. — His teammates weren't going to let Roburt Sallie have all the fun in this NCAA tournament.
Bouncing back from a first-round malaise that might have sunk them if not for Sallie's record-setting shooting, Memphis hit a sizzling 70 percent in the first half Saturday and rolled past Maryland 89-70 in the second round of the West Regional.
All of a sudden the Tigers looked and felt like the team that rode a 25-game winning streak into the tournament they nearly won a year ago.
"Everybody was hitting out there," said Shawn Taggart, who had a double-double with 14 points and 11 rebounds in the start-to-finish domination of the 10th-seeded Terps. "I mean everybody. We were out there shooting the ball very well, and defense was on point today."
Sallie, the surprise hero of Thursday's hard-fought victory over No. 15 seed Cal State Northridge, came off the bench and kept up his 3-point onslaught by hitting his first three, making him 13-for-19 for the tourney.
But in the meantime, Tyreke Evans scored 19 points and was one of five Tigers with at least 13.
"For me, watching collge basketball all my life and now I'm actually here," said the freshman point guard. "But we've still got business to do in trying to win a championship."
Next up for the Tigers will be the winner of Sunday's Missouri-Marquette game.
The second-seeded Tigers (33-3) knocked the Terps (21-14) on the ropes with a 9-0 run in the opening minutes and led by as many as 23 while mounting a 53-33 halftime lead.
"They came hard at us," said Maryland guard Eric Hayes. "We weren't really rotating on every play, but we just weren't there in the first few minues and they got a lot of confidence then. They were making shots, and once they are hitting those 3-pointers, they are pretty hard to cover."
Greivis Vasquez, Maryland's mouthy junior guard, had insulted Memphis' much-maligned Conference USA, saying the ACC was much tougher. But with about 5 minutes to go when Doneal Mack's fifth 3-pointer made it 86-57, the large contingent of Memphis fans began chanting, "A-C-C, A-C-C, A-C-C!"
Maryland coach Gary Williams, as he'd done often this season, had tried to tone down his talkative star.
"He's wrong in saying those things," Williams said. "But at the same time, things get lost in translation a little bit."
Memphis' Antonio Anderson said the Tigers had never paid attention to what Vasquez said.
"We're in Conference USA and love it," he said. "That's our conference, and we represent for the rest of the teams who didn't make the tournament."
A few minutes earlier, Vasquez had drawn a technical foul for apparently saying something either to referees or to Memphis, but the Tigers mostly ignored him while holding him to 18 points, nine fewer than he had against California in the opening round.
As expected, the Terps tried both zone and man-to-man defenses. But nothing worked against a quicker Memphis offense that shot 59 percent for the game. After Cliff Tucker's three-point play cut the lead to 36-24, Memphis on its next two possessions humiliated the press that had worked so well against Cal, the nation's most accurate 3-point shooting team.
Evans whipped the ball down court and Mack drilled his second 3-pointer, then a moment later Robert Dozier took a bullet pass and dunked for a 41-26 lead against a Maryland team that had beaten then-No. 1 North Carolina on Jan. 19.
Sallie, who hit a first-round record 10 3-pointers and scored a career-high 35 points against Northridge, got a huge ovation from the Memphis fans when he made two free throws for a 79-57 lead and returned to the bench.
Adrian Bowie had 11 points for Maryland and Eric Hayes had 10.
Mack, who starts ahead of Sallie, seemed bent on proving he deserved it. The 6-5 junior, who was 0-for-7 on Thursday, drilled three 3-pointers in a row as the Tigers turned a 36-24 lead into a commanding 47-26 bulge. He and Robert Dozier each had 17 points in the runaway win while Sallie had 13, boosting his two-game total to 48.
Everything Maryland tried in the second half failed against Memphis, which looked much quicker and more energetic. Dozier's two free throws gave the Tigers a 83-57 lead and then Mack canned another 3-pointer for a 29-point lead.
"Unbelievable," Vasquez said. "We were playing great defense all year, and today our defense wasn't there."
He also said he didn't regret making that comment about Conference USA.
"They proved me wrong. That's what the sport is about," he said.
More like this story on KUsports.com