Feature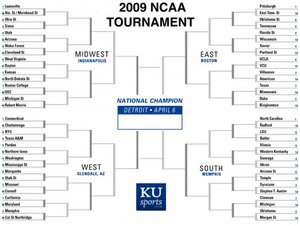 Get yer bracket on! Browse all brackets, check out out KUsports.com staff brackets, and check to see how your bracket's holding up after each match up is complete.
Minneapolis — For every blue shirt in the Metrodome on Friday, there were about six gold ones in what felt like a road game for third-seeded Kansas University and a home game for No. 14 seed North Dakota State University.
The Kansas basketball team survived that atmosphere and a 37-point effort from standout Bison guard Ben Woodside to advance, 84-74, to Sunday's second-round game against Dayton, upset winner against West Virginia.
In order to successfully defend the national title they won last April in San Antonio, the Jayhawks will have to defeat better teams than North Dakota State, but they might not have to face another player as good as Woodside, a 5-foot-11 senior from Albert Lea, Minn.
After the game, Kansas coach Bill Self put his arm around Woodside and let him know what he thought of his game.
"All I did was tell him he was the best guard we've played," Self said. "… We haven't played anybody harder to guard than him. And that's basically what I told him. I think he is a terrific talent."
Kansas (26-7) received big production from its two most talented players. Junior guard Sherron Collins took 26 shots from the field and produced 32 points and eight assists. Sophomore center Cole Aldrich needed just 12 shots from the field to finish with 23 points. He also had 13 rebounds, eight dunks and two blocked shots.
Kansas committed just five turnovers, a season low.
Next up, Dayton's high-flying forward Chris Wright presents another difficult defensive challenge for KU. Wright, a 6-foot-8, 225-pound forward, led Dayton (27-7) to its 68-60 victory with 27 points and nine rebounds.