Feature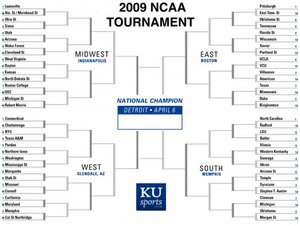 Get yer bracket on! Browse all brackets, check out out KUsports.com staff brackets, and check to see how your bracket's holding up after each match up is complete.
Boise, Idaho — Xavier countered Portland State's usual barrage of 3-pointers with a much more efficient attack.
The Musketeers shot 54 percent from the field and were 8-for-19 from 3-point range while rolling past Portland State 77-59 Friday in the opening round of the East Regional.
C.J. Anderson led the Musketeers' well-balanced scoring with 14 points, followed by 13 apiece by Derrick Brown, B.J. Raymond and Dante Jackson.
Xavier also had just seven turnovers and flustered the Big Sky Conference champion Vikings into a cold stretch in the second half that turned the game into a rout.
"We're not a team that wins a lot of shootouts. Our players really stuck with it," coach Sean Miller said. "We're a very good team when we take care of the ball and I thought we did that today."
While Portland State entered the tournament with the reputation for slinging 3-pointers — averaging more than 25 attempts per game — the fourth-seeded Musketeers (26-7) were the better shooters from beyond the arc. Portland State didn't hit a deep try in the second half until less than seven minutes remained and Xavier already led by 20.
Xavier matched Portland State's total with eight 3-pointers on two fewer tries.
When the Musketeers weren't hitting from the outside, they got the Vikings (23-10) off balance with constant movement that opened up the inside for easy shots.
"Everybody gets to touch the ball and everybody has confidence in the other players' ability to put it on the floor or make the right decision," Raymond said. "We love to share the ball and see our teammates succeed."
Portland State was in the tournament for just the second time. Although it went better than last year's debut against eventual national champion Kansas, the Vikings couldn't keep up with the tournament-savy Musketeers, who are in their the field for the fourth straight year.
Portland State's only lead of the game lasted all of 14 seconds.
"They acted like it was nothing to them," Portland State coach Ken Bone said. "They've been there before and they played like it."
Xavier, which improved to 22-0 when leading at halftime, faces the winner of the Florida State-Wisconsin game, which followed the Musketeers' victory.
Jamie Jones led the Vikings with 16 points. Andre Murray finished with 14 points and Jeremiah Dominguez, the Vikings' sparkplug point guard, finished with 13.
Phil Nelson, the Vikings' third-leading scorer at 11.2 per game, finished without a point and Portland State didn't hit a 3-pointer in the second until less than seven minutes remained. Xavier was already up by 20 at that point.
"They're just so solid on defense and the offensive side," Dominguez said. "We put ourselves in a hole and we couldn't dig ourselves out."
Portland State, the No. 13 seed, finished 22-for-46 from the field, but made only seven of 16 free throws. As the foul shots continued to clang off the rim, the Vikings' hopes faded.
Dominguez went 0-for-2 from the line with 9:31 left to play and Xavier already up 61-45. After the misses, Anderson muscled through a foul for a layup, then Redmond hit a 3-pointer to start a 13-0 run that put it away for the Musketeers.
"What I didn't expect was them to shoot so well," Bone said. "When they got a good look they buried it."
Portland State started its second NCAA tournament game well, shooting 56.5 percent in the first half and hanging right with the sharpshooting Musketeers early.
Murray hit a 3-pointer that gave Portland State a 25-24 lead, but Brown hit a jumper 14 seconds later and Brad Redford followed with a 3-pointer to start a 13-2 run for the Musketeers. Jackson made a steal and passed it to Raymond for an easy layup, then Jackson hit a 3-pointer to put the Musketeers ahead 37-27 with 4:19 remaining in the half.
After Brown's put Xavier up 42-32, Portland State held out for the final shot, taking — of course — a 3-pointer just before the buzzer. Murray hit the shot from the corner and the Vikings were within 42-35 at halftime, giving the Portland State band reason to strike up the theme from "Rocky" before the second half.
The optimism diminished quickly in the second half as Raymond hit a 3-pointer, Jackson drove for a layup and lofted a perfect alley-oop pass for Brown during a 7-2 run that put the Musketeers right back up by double figures again.
"I thought our defense and size really started to wear them down," Miller said. "I credit those guys for sticking with it."
More like this story on KUsports.com