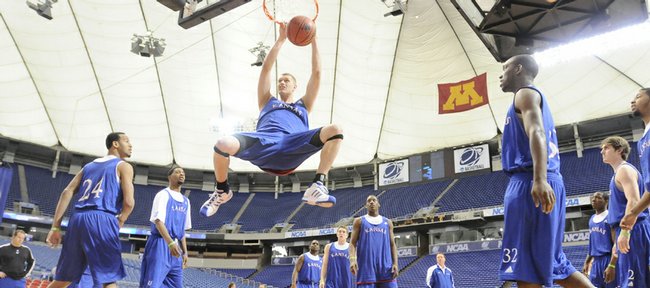 Minneapois — Sherron Collins remembers being frozen in fear before his first NCAA Tournament game.
"My palms were sweaty. I could hardly grip the ball," Collins, Kansas University's junior point guard, said of his emotions before KU's 107-67 victory over Niagara on March 16, 2007, in his hometown of Chicago.
"I'm glad I wasn't a starter then, or the ball would have slipped right out of my hands."
Team leader Collins has tried to warn KU's newcomers about what they should expect — at least at the start of today's 11:30 a.m. first-round NCAA Midwest Regional contest against North Dakota State in the Metrodome.
"He told me he couldn't breathe," said KU freshman forward Markieff Morris, who will be making his NCAA Tourney debut today along with fellow newcomers Marcus Morris, Tyshawn Taylor, Mario Little, Quintrell Thomas, Travis Releford and Tyrone Appleton.
"He told me the collar around his neck felt tight, too."
Markieff's brother said he'd feel just as Collins did in his tourney debut.
"My hands are sweating right now, and I'm only doing interviews," Marcus Morris said, speaking in the Minnesota Twins' locker room 20 minutes before the start of a Thursday afternoon shootaround before about 1,000 fans.
"I'm sure we'll all be fine. I personally get nervous before every game. I get the jitters, but they go away pretty quickly," Marcus Morris added.
Frosh guard Taylor said he's getting "nervous and excited, too," just thinking about making his postseason debut against a 26-6 North Dakota State team led by 5-11 senior guard Ben Woodside and 6-6 senior forward Brett Winkelman.
"I've been keeping to myself, trying to get my mind right," Taylor said. "My nerves and excitedness balances each other out. I just want our team to play well."
KU coach Bill Self wasn't alarmed some of his newcomers admitted to having nerves entering the 2009 NCAAs.
"I don't know if that's all bad. If you don't have a few butterflies, you are not human," Self said. "I don't want them uptight, but you can perform your best when you are a little nervous or anxious going in. I think our guys are excited and looking forward to the challenge."
There's one topic that always seems to help athletes forget about nervousness: That's the perception that they are being slighted nationally. KU's players say they have noticed the fact that some pundits are picking N.D. State of the Summit League to knock off the defending national champs.
"I saw we're on some people's 'Upset alert,''' junior forward Mario Little said. "We don't worry about that. They big thing is us coming out with energy. If we have energy we feel we can play with anybody."
"I think we'd be the perfect team for somebody to pick to get upset," guard Taylor noted. "We are young. If I was an analyst, I'd probably pick us to get upset, too. I practice with these guys every day. I don't think we'll get upset.
"I actually like to hear people say we're an 'upset team.' It will light a fire under us. I think we'll play with a chip on our shoulder," Taylor added.
Meanwhile, KU's veterans — Collins and Cole Aldrich — may have some extra motivation trying to defend last year's national crown.
Remember, the title is KU's until somebody else takes it away.
"We are the defending national champions. Until the end of the run this year, it's our title," Aldrich said.
"I guess we want to defend it because last year's team is the one that won it. But we do have a whole different group of guys. It seems to me it's 15 new guys," he added with a laugh.
"We are still last year's national champions," Collins noted. "If we lose, we aren't (champs anymore). Right now we are."
KU's Self stressed playing with "energy," working hard on defense and sharing the ball on offense — staples of his program — more than focusing on intangibles like defending titles or proving people wrong.
"Whenever you talk about defending something, you set a mind-set that we are trying to hold onto something as opposed to attacking to get what you really want," Self said.
"I am not interested in us trying to hold onto something. I want us to go take it. We need to be thinking about winning as opposed to losing.
"The other thing, if we returned all our players like Florida a couple years ago when they repeated, we could talk about it. We have one player that scored last year in the championship game, Sherron. We have a whole new cast. That may be motivation a little bit, but I don't think a ton."
The winner of today's game will meet the winner of today's West Virginia-Dayton game at 1:30 p.m. on Sunday. The loser's season is over.
More like this story on KUsports.com