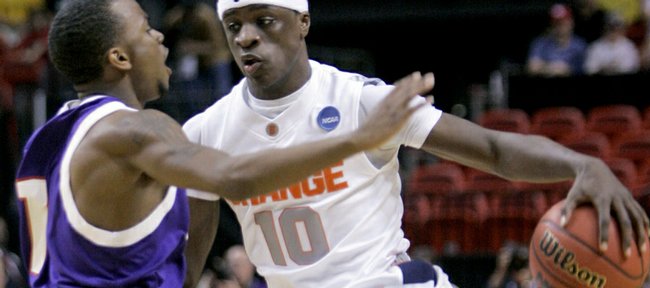 Syracuse vs. SFA
Feature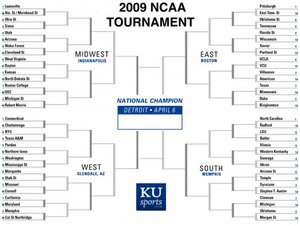 Get yer bracket on! Browse all brackets, check out out KUsports.com staff brackets, and check to see how your bracket's holding up after each match up is complete.
Miami — Jonny Flynn and Paul Harris stood in the Syracuse locker room before tip-off, imploring teammates to dash Stephen F. Austin's upset hopes before they could even begin.
As usual, the Orange listened to their leaders — then went out and won their first NCAA tournament game in exactly five years.
Flynn scored 16 points, Rick Jackson and Arinze Onuaku each added 12 and third-seeded Syracuse cruised past NCAA first-timer Stephen F. Austin 59-44 Friday in a South regional matchup.
Syracuse (27-9) ran out to a 20-4 lead over the overmatched Southland Conference champs, and will meet either Arizona State or Temple in Sunday's second round.
"This is what you play for," Flynn said. "You don't come into the season saying you're playing for the Big East championship. You're playing for the NCAA championship."
Not lately, the Orange haven't been.
They won the title in 2003 behind Carmelo Anthony, then beat Maryland in the second round at Denver in March 20, 2004 — and went 0-3 in NCAA games since, losing in the regional semifinals to Alabama that year, then endured first-round upsets at the hands of Vermont in 2005 and Texas A&M; in 2006.
This time, the outcome seemed sealed within minutes.
Stephen F. Austin (24-8) missed 12 of its first 13 shots, started a mind-numbing 0-for-15 from 3-point range, and trailed by 26 points five minutes into the second half. A 1-3-1 zone slowed Syracuse considerably the rest of the way, but the Lumberjacks never made a serious run.
"We didn't play up to our capabilities," Lumberjacks coach Danny Kaspar said. "I think there was a bad case of the shakes with some of us, and even when that settled down, we just couldn't get it going."
Benson Akpan led Stephen F. Austin with 12 points and Nick Shaw scored 10. The Lumberjacks finished 2-for-21 from 3-point range, and that played perfectly into Syracuse's hands.
"We just had to stand there and hit them in the first couple minutes of the game, and we just couldn't," said Lumberjacks forward Josh Alexander, who was held to eight points on 4-for-20 shooting, 0-for-7 from 3-point range.
Eric Devendorf had 10 points and Harris had a game-high 16 rebounds for Syracuse, which shot 63 percent in the first half, 32 percent in the second. The Orange only allowed the Lumberjacks to shoot 24.7 percent, their best showing since Alabama shot 24.2 percent against Syracuse on Jan. 11, 1997.
"It doesn't matter how pretty it was," Syracuse guard Andy Rautins said. "We got the win and we're advancing."
In 80 appearances, Syracuse's all-time low for NCAA points allowed was 43 against Princeton in 1992 — and Jereal Scott kept it that way, hitting two free throws for the Lumberjacks with 12.9 seconds left to close the scoring.
"You just want to get a win in this tournament and get to the next game," Syracuse coach Jim Boeheim said. "That's what it's about."
Syracuse's 2-3 zone frustrated the Lumberjacks from the outset. Stephen F. Austin didn't score on any of the first six possessions where it tried to score from the post; combine that with the frigid shooting from the outside, and the Lumberjacks' first NCAA trip was destined to be a short one.
The Lumberjacks didn't get on the floor from their final pre-game locker room chat until about 1 minute before the starting lineups were announced.
Considering the way the opening minutes went, they might have wanted to head back into their dressing room quickly.
Jackson set the tone immediately, blocking Matt Kingsley's shot on the first possession of the game, then setting up Onuaku with a pass from the high post for an easy score that got the Orange on the board a few seconds later.
If there was any hope for another 14-over-3-seed upset like the one Southland member Northwestern State pulled over Iowa three years ago, it quickly vanished.
Flynn got his first score with 17:06 left in the half, making it 6-0, then took his spot atop the Syracuse zone, clapped his hands three times and yelled to no one in particular, "Turn it up."
The Orange responded.
"They're a large group of guys," Kingsley said.
Stephen F. Austin led the nation in 3-point field goal defense this year, and lived up to that billing. The Orange were 2-for-16 from long range, plus committed 21 turnovers to the Lumberjacks' six.
It didn't matter, thanks to a 51-32 edge in rebounding and holding Stephen F. Austin to 25 percent shooting on the afternoon.
"How big a win was it?" asked Onuaku, repeating a question posed his way. "Can you say huge?"
Playing without top reserve Kristof Ongenaet — sidelined by a flu bug that hit some members of the Syracuse travel party — the Orange were still never threatened. Even Boeheim had a cough and congestion after the game.
Getting to the second round made him feel a bit better.
"I don't feel that bad," Boeheim said.
More like this story on KUsports.com