Feature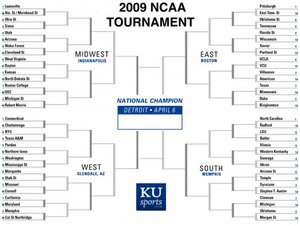 Get yer bracket on! Browse all brackets, check out out KUsports.com staff brackets, and check to see how your bracket's holding up after each match up is complete.
Dayton, Ohio — Pittsburgh had an ugly — and scary — first game as a No. 1.
Pitt's massive center DeJuan Blair bullied his way inside for 27 points and 16 rebounds as the Panthers, playing their first game as a top seed in the NCAA tournament, survived a frightful 40 minutes from No. 16 seed East Tennessee State and advanced with a 72-62 win on Friday in the East Regional.
Pittsburgh (29-4) will play eighth-seeded Oklahoma State, a 75-77 winner over ninth-seeded Tennessee, in Sunday's second round.
The Panthers had better improve if they want go much further. They made 18 turnovers, struggled with ETSU's end-to-end press and hardly looked like potential national champions.
Kevin Tiggs scored 21 for the Buccaneers (23-11), who shot just 31 percent but still had a chance to become the first No. 16 to down a No. 1 until the final two minutes.
Since the NCAA tournament field expanded to the 64-team format in 1985, a No. 1 has never lost to a No. 16 — a streak now at 99 games.
There have been plenty of close calls, including a one-point loss by ETSU 20 years ago this month against top-seeded Oklahoma. Go ahead and add this one to the list because Pittsburgh's first excursion lugging around the top-seed target was a very bumpy ride.
When Buccaneers guard Courtney Pigram drained a 3-pointer with 4:27 left, ETSU was within 59-57 and the crowd inside the University of Dayton Arena — comprised of fans from Tennessee, Oklahoma State along with some locals who spent the afternoon cheering updates from the hometown Flyers' game — erupted at the possibility of seeing college hoops history.
Pittsburgh had other ideas. Blair made sure of it.
The 6-foot-7, 265-pounder scored on a three-point play to give the Panthers a five-point cushion that felt like 20, and after Tiggs made two free throws to bring ETSU within 62-59, Blair lobbed a pass up the floor to point guard Levance Fields. Pitt's leader, who has been bothered by a groin injury the past few weeks and is not moving as well as usual, was able to outrace two ETSU defenders for a left-handed layup.
The Bucs missed a free throw and Pitt capitalized as Ashton Gibbs hit a long 3-pointer and celebrated the big bucket by pounding his fist against his chest.
Tiggs, who was just 6-of-21 from the floor, made a layup to get it to 67-61 with 1:05 left, but ETSU couldn't get any closer as the Panthers made their free throws and booked a date with the Cowboys, who never imagined not facing the Big East brutes.
"No question Pitt is one of the great teams in the country," OSU coach Travis Ford said. "They have a very experienced team, and they're very big. We've played against (Oklahoma's) Blake Griffin, but they seem to have two or three Blake Griffins on their team. We're going to have to figure something out in the next few days."
The Bucs may have given Ford some hope.
Pigram scored 17 points but shot only 7-of-23 and the Bucs, champions of the Atlantic Sun Conference, made some self-inflicted errors and missed 12 of 24 free throws.
It was the 161st win for Pitt coach Jamie Dixon, tying him with North Carolina State's Everett Case (1947-52) for the best start in six seasons. Getting his next one could be tough if the Panthers don't improve.
Dixon's teams are known for their tough, physical style and something else not as flattering: an inability to get deep in the tournament.
Despite a succession of 20-win seasons and a few Big East titles since 2002, the Panthers haven't been able to advance past the round of 16. The can't-win-the-big-one stigma has stung Pitt's program and perhaps unfairly kept it from being grouped with North Carolina, Kansas, Connecticut and others.
After committing 13 turnovers — one more than its average for a game — in the first half, Pitt's players headed to the locker room at halftime to regroup thinking they were up by just one point.
ETSU's Mike Smith had scored on a short bank shot just before the buzzer after a perfectly executed play in the final seconds by the Buccaneers, and the officials initially ruled the basket good. But after looking at the replay, Smith's shot was waved off giving the Panthers a 26-23 lead at the break.
ETSU had done everything it could to stay close, everything but shoot well. The Bucs were just 9-of-37 (24 percent) from the floor and made only 1 of 13 3-pointers. Tiggs and Pigram were a combined 4-of-21, and yet ETSU was just 20 minutes and maybe a few jump shots from stunning a No. 1.
Smith opened the second half with a 3-pointer, but the Bucs couldn't make enough of them to drop Pitt.