Feature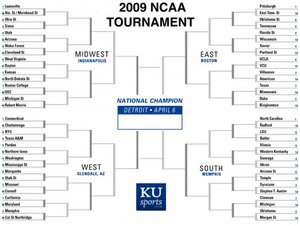 Get yer bracket on! Browse all brackets, check out out KUsports.com staff brackets, and check to see how your bracket's holding up after each match up is complete.
Minneapolis — When Michigan State arrived in Minneapolis for the NCAA tournament, Raymar Morgan said he was ready to "show the world what they have been missing for a while."
Those who watched the Spartans' dominating victory over Robert Morris in the first round on Friday night got a pretty good glimpse of what Morgan and the rest of the Spartans can do when they are healthy.
Morgan scored 16 points and Goran Suton had 11 points and 17 rebounds as Michigan State bullied 15th-seeded Robert Morris in a 77-62 victory in the first round of the Midwest Regional on Friday night.
Draymond Green added 16 points for the second-seeded Spartans (27-6), who were spotty during the Big Ten season thanks to Morgan's walking pneumonia and Suton's gimpy knees. They both looked fine on Friday night against the overmatched Colonials and the Spartans regained the form that led to convincing victories over Kansas, Oklahoma State and Texas earlier in the year.
"It's been a long time since we had every guy healthy," forward Marquise Gray said. "It's been an up and down season for us, but what better time to have everything working than now?"
Michigan State will play 10th-seeded USC on Sunday.
Jeremy Chappell was the only player in double figures with 11 for Robert Morris (24-11), a commuter school from suburban Pittsburgh making its first NCAA appearance since 1992.
The Colonials were game early, leading 28-26 with six minutes to go in the first half as they looked to become just the fifth No. 15 seed to win in the first round in tourney history.
"Everybody's eyes lit up and we knew that we could play with them," guard Jimmy Langhurst said. "They're the same age as us. We were competing with them. It kind of shocked us for a second."
But Robert Morris didn't have Steve Nash, like Santa Clara did in a victory over Arizona in 1993.
And Michigan State didn't lay an egg while looking ahead to the second round, like Syracuse did against Richmond in 1991.
"We played one of our better games," coach Tom Izzo said.
The Spartans simply shrugged off a worrisome loss to Ohio State in the Big Ten tournament semifinals and delivered a dominating effort to let everyone know they have their mojo back.
"It gives us a big boost, especially after coming off that loss to Ohio State in the Big Ten tournament," Suton said. "We had a great week of practice and I think we performed well overall tonight. Hopefully we carry some of this over to the next game."
Michigan State had a 49-28 advantage on the boards and 44-20 in the paint against a smaller opponent that resides in little Moon Township, about 17 miles from downtown Pittsburgh.
Chappell, the Colonials' do-everything guard who leads the team in scoring, rebounding, assists and steals, didn't do much of anything on Friday night, shackled by Travis Walton. He shot 5-for-14 and had six rebounds and two steals.
With coach Mike Rice, the rising star and former assistant at Pitt under Jamie Dixon, prodding his young team and pumping his fists, Robert Morris tried to go toe-to-toe with the Big Ten champs, but got knocked silly in a 10-minute span bridging the first and second halves.
Trailing by four with 3:30 to play in the first half, Rob Robinson burst down the lane and leaped for what may have been a momentum-changing dunk. But the ball hit the front of the rim and Robinson tumbled to the court with an "OOOOOH!" from the crowd, and not the good kind.
Robert Morris never seemed to recover.
Allen came right back with a layup and a 3-pointer and Green capped an 11-0 finish to the half with a putback of his own to give Michigan State a 41-30 lead at the break.
The 21-0 barrage continued in the first five minutes of the second half, with the lead ballooning to 51-30 before the Colonials scored their first points of the period.
"We've lost our minds!" Rice screamed at them at one point in the second half. "Move the ball!"
The Spartans led by as many as 23 points before Izzo called off the dogs. A late surge by the Colonials made the score a little more respectable, but the outcome was never in doubt in the final 25 minutes.
"What I want them to take away is that all of the hard work, all of the dedication, all of the sacrifices, they've had an incredible last two weeks of their lives, and it's something they're always going to remember," Rice said.
Now things will get tougher for Michigan State.
The Trojans have the kind of athleticism and offensive balance that Robert Morris can only dream of and will test Izzo's hard-nosed defense more than perhaps any team they faced in a plodding Big Ten.
"They're going to have their hands full," Izzo said.