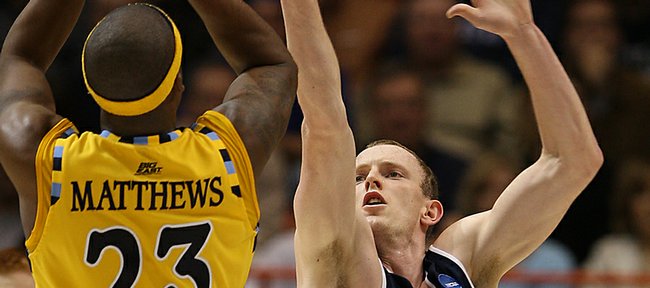 Feature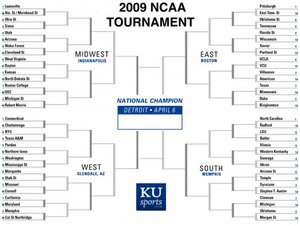 Get yer bracket on! Browse all brackets, check out out KUsports.com staff brackets, and check to see how your bracket's holding up after each match up is complete.
Boise, Idaho — Lazar Hayward scored 26 points and Marquette made 10 straight free throws down the stretch to hold off Utah State 58-57 Friday in the first round of the West Regional.
The Golden Eagles blew a 14-point lead, then rallied from a six-point deficit to win.
Jerel McNeal and Wesley Matthews each scored 14 points for sixth-seeded Marquette (25-9).
Jared Quayle led Utah State (30-5) with 18 points. The 11th-seeded Aggies recovered from a dismal first half by shooting 12-for-20 to start the second half, but couldn't hang on and lost their fourth straight first-round game.
Hayward put Marquette back up 52-51 on two free throws with 1:45 left and the Golden Eagles led the rest of the way.
The Golden Eagles went 14-for-17 from the foul line in the second half, including 10 in a row as they regained the lead and held off one final push by their Western Athletic Conference opponent.
Pooh Williams banked in a 3-pointer to get Utah State within 56-54 with 23 seconds left and the Aggies got a break when McNeal went 1-for-2 from the line after a quick foul.
But Gary Wilkinson's 3-point attempt for Utah State that would've tied it clanged off the rim and the Golden Eagles sealed it with another free throw. The Aggies threw in a 3-pointer at the buzzer.
Wilkinson finished with 15 points, but only four rebounds. Tai Wesley scored 11 of his 15 points in the second half before fouling out in the final minute.
More like this story on KUsports.com