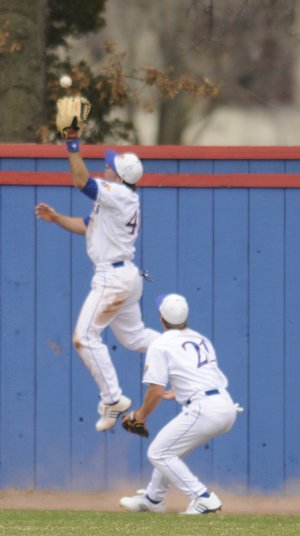 Considering that the Kansas University baseball team had dropped four of its past five heading into a three-game series with Texas, and considering that Texas happens to be the nation's No. 1 team according to Baseball America, Friday's series-opening matchup with the Longhorns at Hoglund Ballpark didn't exactly look a recipe for success.
Except, well, that's exactly what it was.
Two days after blowing an eighth-inning lead in a one-run loss to San Diego State, the Jayhawks didn't make the same mistake Friday, building a quick lead and maintaining it throughout the afternoon en route to a much-needed 5-4 victory.
"It's been a really tough two weeks," said KU right fielder Brian Heere, referring to the team's recent road series against San Diego State and No. 6 Arizona State. "We've been losing a lot of one-run games, and it was huge to be able to get one."
Pitcher Shaeffer Hall allowed just six hits and four runs in seven innings to move to 2-1 this season, while the team's lineup did enough to saddle Longhorns All-American candidate Chance Ruffin (3-2) with a rare loss.
It was an opportunistic third inning, however, that tilted the game in the Jayhawks' favor.
Taking advantage of a pair of Longhorns fielding gaffes — including a throwing error by Texas first-baseman Brandon Belt that allowed two runs to score — Kansas (11-7, 1-0 in the Big 12) jumped to a quick 4-0 lead in the bottom half of the inning to put Texas in a rare hole and provide Hall a good deal of wriggle room.
"That was really huge," Hall said. "Any time you get out early and ahead, you feel a lot more comfortable out there (on the mound)."
The Longhorns, predictably, made an eventual charge, scoring two runs in the top of the fifth on a Kevin Keyes two-run home run and one each in the sixth and seventh innings.
But the Jayhawks' big third inning — coupled with Preston Land's RBI single in the bottom of the fifth to push Kansas' scoring total to five — proved too much to overcome.
"They have such great pitching and they play such great defense that if you're fortunate enough to put a four-spot up in one inning, you've got a chance," said Kansas coach Ritch Price. "Because they're not going to give that up very many times."
Friday's victory marked the eighth straight for the Jayhawks at home — they're 8-0 at Hoglund Ballpark this season — and the first victory since upsetting Arizona State, 3-2, on March 14.
What's more, halfway through a daunting one-month stretch in which they've played (or will play) a series against three top-10 teams in Arizona State, Texas (No. 1) and Baylor (No. 9), Friday's outcome represented a significant sign of progress — one not lost on Price.
"I've told our guys there's about a 16-game stretch where no team in America's going to play a tougher schedule than we are," Price said. "And we're almost halfway through it — it doesn't get any easier. The thing about it is, you've got to look forward to the challenge, and I think our guys are relishing the opportunity."
More like this story on KUsports.com