Feature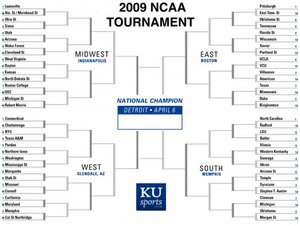 Get yer bracket on! Browse all brackets, check out out KUsports.com staff brackets, and check to see how your bracket's holding up after each match up is complete.
Boise, Idaho — Trevon Hughes had no problem getting his nose dirty, especially with a payoff like this.
After spending all night doing the grunt work on defense, the Wisconsin guard got to play a more glamorous role at the end. He got to take the crazy, spinning, highlight-reel bank shot with 2 seconds left in overtime and the season on the line.
The shot went in over a bunch of Florida State's outstretched arms and the Badgers won, 61-59 in the first round of the NCAA tournament.
"I'm just glad the coach had trust in me," Hughes said.
Next up for 12th-seeded Wisconsin (20-12) is a meeting with Xavier in the East Regional.
It's doubtful the Badgers or Hughes will face a tougher test than what they had in Seminoles star Toney Douglas, the under-appreciated guard who averages 21 points and led fifth-seeded Florida State (25-10) to its first tournament appearance in 11 years.
Douglas finished with 26 points, not a single one of them easy, thanks to Hughes' huge defensive effort.
"Douglas is so tough defensively on Hughes, he really kind of took Trevon out of a lot of things," Wisconsin coach Bo Ryan said. "Fortunately at the end, he had at least one good one in him. But defensively, that's how we try to play all the time."
That tough defense put Wisconsin in position to win, even after shooting only 40 percent and going through a couple of long, ugly scoring droughts that almost made this game unwinnable.
Wisconsin held Douglas without a single shot attempt for the first 11 minutes of the game, in part because Hughes kept smothering and denying him the ball.
But it couldn't last forever. He wound up 8-for-16 from the floor. His 3-pointer with 1:16 left gave the Seminoles a 59-56 lead but, hounded by the Wisconsin defense, he missed another one that would have put it away with less than 10 seconds to go.
That set the stage for Hughes, who had the ball all the way after a timeout, trailing by one with 8.3 seconds left.
He dribbled left, spun right into the lane, then flipped the game-winner over Douglas and Chris Singleton. Drew contact, too, and made the free throw for a three-point play to make it 61-59.
"Basically, I came off the screen, they left me open and they let me make a play," Hughes said. "I got in the lane and did what I had to do to get the 'W.'"
For cappers, Hughes batted away Florida State's desperation pass at the end and the Badgers mobbed him at halfcourt to celebrate the victory.
Jason Bohannon led Wisconsin with 16 points, including a 3-pointer with the shot clock going off for 52-50 lead with 55 seconds left in regulation.
Keaton Nankivil had 14 and Hughes and Marcus Landry had 10 each for Wisconsin, which endured a six-game losing streak in January that put Bucky on the bubble for the last six weeks of the season. The Badgers stressed on Selection Sunday when it took a while for their name to pop up. Hearts were surely beating faster at the end of this one.
Florida State, meanwhile, has an NCAA tournament resume you could fit on the back of a business card — a grand total of 11 appearances. And though it won't grow much after this one, the Seminoles were certainly part of a memorable game.
"I think we got beat by a team tonight that stuck to their game plan," Florida State coach Leonard Hamilton said. "With the game on the line, they executed."
Douglas only took over the game once, midway through the second half when scored nine of his team's 11 points during a stretch that turned a one-point defecit into a 44-37 lead.
But Wisconsin, down as much as 12 at halftime, wouldn't quit.
"Coach said, '20 minutes is guaranteed to us and nothing after that,'" Joe Krabbenhoft said. "He said let's take advantage of those 20 minutes on both ends. Every loose ball has got to be ours. Smile. Have fun. Just go out there and have a ball."
They did.
Bohannon hit a 3-pointer with 2:24 left to put the Badgers ahead 49-48. Later came his heave from about 25 feet that made it 52-50. Douglas, however, answered with two free throws and the game was headed to overtime.
Wisconsin joined Western Kentucky and Arizona as the third vaunted No. 12 seed to pull an upset over a 5. But was this really an upset? The Badgers have certainly been here before. Eleven straight times, in fact, and have made it out of the first round all but once since 2002.
More like this story on KUsports.com