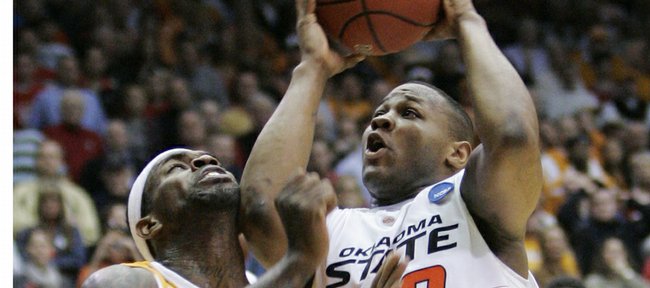 Feature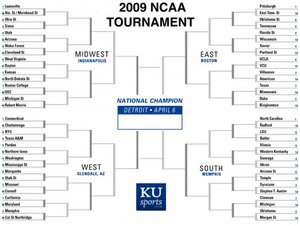 Get yer bracket on! Browse all brackets, check out out KUsports.com staff brackets, and check to see how your bracket's holding up after each match up is complete.
OSU vs. Tennessee
Dayton, Ohio — Looking at the thicket of bodies clogging the middle of the floor, Oklahoma State's Byron Eaton wasn't sure how he'd create his final shot. So, he kept dribbling.
Stunningly, after 40 minutes of give-no-ground basketball, everything opened up right in front of him.
The Cowboys' barrel-chested point guard found a clear path to the basket for a three-point play with 7.2 seconds left Friday, lifting his team to a 77-75 victory over Tennessee in the first round of the NCAA tournament.
Oklahoma State (23-11) will play either East Tennessee State or Pittsburgh, the top seed in the East Regional. The Panthers sprawled across the first three rows of seats behind the Oklahoma State basket for the start of the second half, doing a little firsthand scouting.
They were gone long before Eaton — a five-sport star in high school who also played a little football — gave the game its final shoulder-down nudge.
Tennessee (21-13) got caught flat-footed, allowing Eaton to drive the lane untouched. Tyler Smith came in late and unsuccessfully tried to block the shot, which fell through the net as Eaton tumbled to the floor after the contact.
"He just gave me the middle," Eaton said. "I was looking for the contact. I knew it was coming. I just tried to concentrate on making the basket."
Smith had a chance to win it for Tennessee, but his jumper from behind the arc hit the side of the rim and bounced up to the top of the backboard as the buzzer sounded. Smith led all scorers with 21 points.
"I knew it was going to come down to the wire," Oklahoma State coach Travis Ford said. "If you study our team and their team, that was just the way it was going to be. We figured out how to survive."
Tennessee has reached the NCAA tournament in all four years under coach Bruce Pearl, who's had some of his best coaching moments there — starting with his emergency stint as the Boston College mascot for one game in the 1981 tournament.
This wasn't one of them. He left the floor complaining to the referees that no foul was called on Smith's final shot, which came off a play the Volunteers run in practice every day.
"It's a shot that he takes and makes a lot at the end of practice," Pearl said. "I didn't want anybody else taking that last shot."
No matter how it turned out, this NCAA appearance amounted to a big step forward for Oklahoma State, which advanced to the Final Four in 2004, then fell on hard times. The Cowboys were relegated to the NIT the last three years, prompting them to hire Ford.
Even though it was a transition season in Stillwater — Ford estimates that he's installed perhaps 60 percent of his offensive and defensive systems — Oklahoma State was finally back playing with the big boys. His feistiness seemed to rub off on the Cowboys, giving them an edge they'd lacked.
Ford's fiery demeanor temporarily cost them on Friday.
Unhappy over his team's early effort, he told an assistant coach he was going to get a technical to fire up his players. He angrily complained about a call during a timeout and got a technical from Mike Sanzere. The two free throws were part of a five-point spurt that gave Tennessee its biggest lead at 32-25. Ford berated Sanzere after tearing into his players.
"I wanted to get it," he said of the technical. "I told them: 'You guys have got to get as fired up as I am now.'"
With their free-flowing style, the Cowboys are accustomed to overcoming big leads and giving them away. Eaton hit a pair of pull-up jumpers in a 13-2 run that closed the half and put Oklahoma State up 38-34.
The stocky, 5-foot-11 guard also had a hand — two of them, actually — in a tone-setting moment during the run. He and Tennessee's Wayne Chism, a 6-foot-9 forward who weighs 242 pounds, wrapped their arms around a rebound and wouldn't let go. Chism yanked and they both tumbled to the ground, but Eaton refused to let give up the ball.
Ford liked that.
Oklahoma State tried to set the run-and-shoot style that made it one of the nation's highest-scoring teams. Tennessee stuck with its halfcourt game, trying to take advantage inside.
It was a stalemate — 12 ties, 18 lead changes — until Eaton, who was playing in his first NCAA game, found that final opening.
"It was one of my goals to get here and win some games. I just wish it had come a little sooner in my career," the senior said.
More like this story on KUsports.com