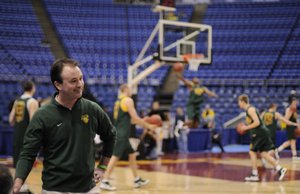 Minneapolis — North Dakota State center Lucas Moormann had to smile when talking about the jersey he wore 10 years ago in his hometown of Dickinson, N.D.
"Kansas, No. 13," the senior said, referring to his replica jersey of North Dakotan and former Jayhawk Jeff Boschee. "It's something I used to wear around playing at the open gyms and thought I was cool wearing the same thing. I wasn't out there casting threes as much, but it was cool just to have that."
Not only did Moormann have a Jayhawk jersey — one he purchased online — he also bought and read Boschee's book, "Long Shot: Beating the Odds to Live a Jayhawk Dream," in high school.
"As a freshman, he just had a hard time getting used to being away from home and coming from a small town. I kind of felt the same way, coming from a small town," Moormann said.
The sentiment was the same among three native North Dakotans on the NDSU roster: Boschee had inspired them to dream big in basketball.
"Everyone knows about Jeff Boschee from North Dakota. Everyone looks at him like a hero," NDSU freshman Caleb Shockman said. "I never thought that a guy from small-town North Dakota could go D-I like that, but now it just kind of opened up possibilities."
When he was younger, Shockman kept a KU schedule so he could make sure to catch Boschee when he played on national television.
The LaMoure, N.D., forward said he remembered when his buddies had Boschee posters on their walls.
"All my friends are Kansas fans," Shockman said, "but now it's kind of mixed feelings."
Austin Pennick, a junior guard, followed Boschee's progress while growing up in Fargo, N.D.
He said, as a kid, North Dakota malls and classrooms filled with Kansas basketball jerseys.
"I definitely think I asked my mom a couple times for that," Pennick said with a smile. "Didn't ever get it."
Many media members and fans have picked the Bison as a sleeper team in this, their first NCAA Tournament appearance.
The players said they understood the significance.
"We're not playing for just us, or the team, we're playing for the entire state," Pennick said. "Not many people know where North Dakota even is. We're just trying to put us on the national map and get some attention and show that we can play basketball."
Pennick was stopped by multiple fans wishing him luck when he went to Buffalo Wild Wings the other day. He also was stopped at the video store, where fans saw his Bison gear and immediately started a conversation.
"You can't go to the grocery store to get some eggs and milk without being stopped for a half-hour," Moormann said. "It's been great."
More like this story on KUsports.com