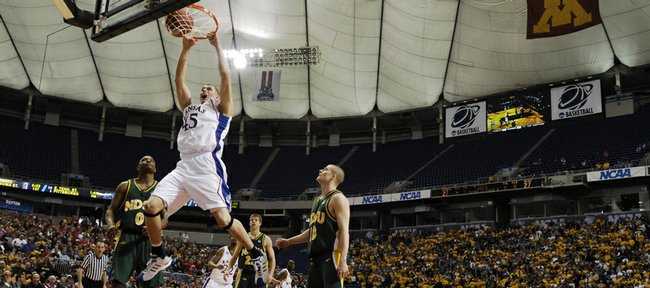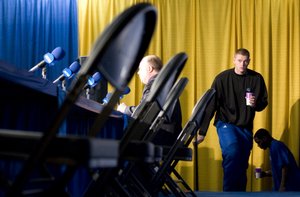 Minneapolis — A batch of reporters from Cole Aldrich's home state of Minnesota huddled in front of, and to the side of, the 6-foot-11 Kansas University center, who was seated comfortably Thursday afternoon in the Minnesota Twins' spacious locker room.
"Cole, what do you remember most about the Metrodome?" the Bloomington, Minn., native was asked.
"Playoff games of the Twins and Vikings," Aldrich said, eager to provide precious sound bites for the local print and electronic media.
"I seem to recall Randy Moss catching a few passes in here and Torii Hunter catching a few balls in here. I've been a fan of the teams that have played in this building for the 20 years that I've been alive."
Aldrich's eyes sparkled when informed he actually was seated in front of the former locker stall of Hunter, a former Twins' fan favorite who now plays for the Los Angeles Angels of Anaheim.
"I am? That's cool," Aldrich said.
Aldrich, who today will be matched against 6-10 senior Lucas Moormann when the Jayhawks tangle with N.D. State at 11:30 a.m., in the dome, was comfortable in front of the Minnesota press.
He spoke of improving his footwork and endurance by taking part in boxing workouts in the early morning hours the summer before, and during first semester of his freshman year at KU.
"It's helped my quickness, too," Aldrich said. "I never quite knew boxing was that difficult until I tried it."
He also discussed the big boot on his left foot.
"It's for a little stress reaction," he said, adding, "It's nothing at all."
And he reiterated there's a decision to be made concerning his future — whether to enter the NBA Draft or return for a third year to KU — after the season.
"I've got so much to work on, so much to learn," Aldrich said, sounding as if he'd like to work on his game a third collegiate season.
"I've got to work on getting my legs stronger, doing squats all summer. They (legs) are going to have to keep me up and going a long time.
"I have a long ways to go. I use Danny Manning (KU assistant and former NBA player) as the biggest tool in my tool box. I could sit and talk to him for hours. I want to take everything I can from him," Aldrich added.
Of course, he's currently concentrating on performing well in the 2009 NCAAs in his own backyard. He'll chat with his parents and coach Bill Self about his NBA options after the season.
"I had a smile on my face in the terminal at the airport (Wednesday). It's good to be in familiar surroundings," Aldrich said.
He's taken a little ribbing from teammates. Temperatures were in the 20s here Thursday morning.
"I told him I didn't like the weather," frosh Markieff Morris said. "He said the weather here is great. He seems like the normal Cole to me. He doesn't seem too upbeat. He's just himself. He'll play really well."
More like this story on KUsports.com