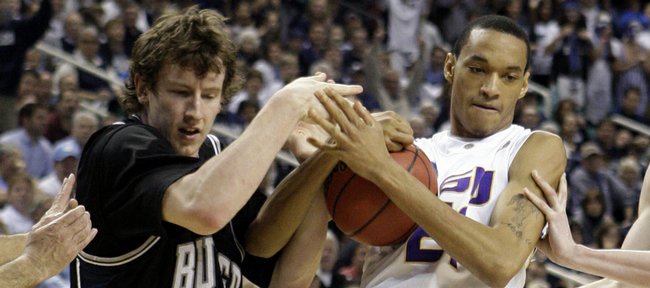 Butler vs. LSU
Feature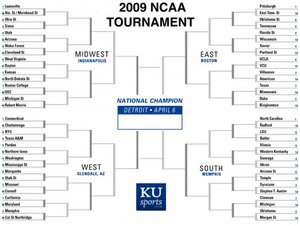 Get yer bracket on! Browse all brackets, check out out KUsports.com staff brackets, and check to see how your bracket's holding up after each match up is complete.
Greensboro, N.C. — Butler has put together quite a few upsets in recent NCAA tournaments. Marcus Thornton kept LSU off that list.
Thornton scored 30 points and the hot-shooting Tigers held off a late rally to beat Butler 75-71 on Thursday in the first round of the NCAA tournament.
Tasmin Mitchell had 14 points and Chris Johnson added 12 for the Tigers (27-7), seeded eighth in the South Regional. They shot 49 percent against one of the nation's toughest defenses in advancing to Saturday's second round against the North Carolina-Radford winner.
Matt Howard scored 22 points before fouling out with 35.7 seconds left, and Shelvin Mack added 18 points for No. 9 seed Butler.
The Bulldogs (26-6) made things interesting by twice pulling within three in the final minute. The last came when Willie Veasley tipped in Gordon Hayward's missed 3 with 5.4 seconds left to make it 74-71. Johnson hit one of two free throws with 4.5 seconds left to seal it.
Hayward, Butler's top 3-point shooter, finished with 12 points for the Bulldogs, who rallied from an early 13-point deficit but went on to lose in the first round for the first time since 2000.
Considered one of the nation's most dangerous mid-majors, Butler had knocked off Maryland, Wake Forest, Louisville and Mississippi State in recent tournaments.
Playing with an inexperienced lineup and three freshman starters, the Bulldogs were poised to add LSU to the list when Zach Hahn hit a free throw to tie it at 58 with 5:15 remaining. But Terry Martin stuck back Garrett Temple's missed 3-pointer 15 seconds later, and Thornton knocked down a 3 from the right wing at the 4:08 mark to give LSU breathing room.
Showing why he was the Southeastern Conference's player of the year, Thornton was 10-of-15 from the field and hit three of his four 3-pointers in his first 30-point game since he also had 30 last month against Georgia. At times, Thornton had his way with a tough Butler defense that entered allowing opponents to shoot just 38 percent.
Thornton reeled off nine consecutive points late in the first half, capping his brilliant run with a twisting layup in transition that gave the Tigers their largest lead, 31-18, with about 3½ minutes left before the break.
The Tigers dominated early, seemingly out to prove that they were underseeded. Their long, athletic defense — led by Johnson, a 6-foot-11 center — played havoc with Butler's deliberate, space-conscious offense by holding the Bulldogs to one field goal during the first 11 minutes.
At the 8-minute mark, LSU had blocked more shots (three) than Butler had made (two).
Johnson eventually wound up in foul trouble, and the Bulldogs got themselves back into the game. The shot-altering big man picked up his third foul during Butler's surge of nine straight points, and Veasley's alley-oop dunk with 15 minutes left made it 42-41.
More like this story on KUsports.com