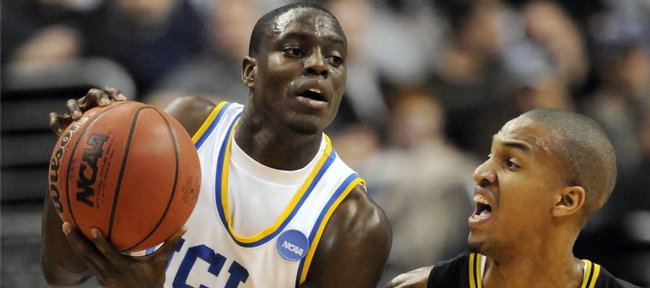 UCLA vs. VCU
Feature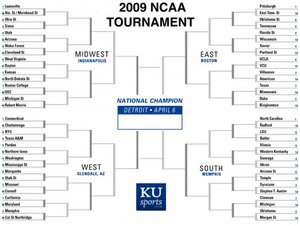 Get yer bracket on! Browse all brackets, check out out KUsports.com staff brackets, and check to see how your bracket's holding up after each match up is complete.
Philadelphia — A long way from home, UCLA fiercely defended its turf and its hopes of a fourth straight trip to the Final Four.
Darren Collison refused to yield in the final seconds, pressuring VCU's Eric Maynor into a missed a 17-footer at the buzzer to give the Bruins a 65-64 victory over the Rams on Thursday night in the opening round of the East Regional.
UCLA (26-8) advances to play Villanova (27-7) on Saturday.
Josh Shipp scored 16, Jrue Holiday had 13 and three other Bruins scored in double figures.
Maynor led Virginia Commonwealth with 21 points. The Rams (24-10) from the Colonial Athletic Association were a popular pick to pull off a 6-11 upset against the Pac-10 powerhouse — even President Barack Obama circled VCU in his bracket.
But UCLA wasn't ready to go home.
Trailing 63-60 with 1:19 left, VCU pulled within a point on a pair of free throws by Bradford Burgess. Alfred Aboya answered with two free throws for the Bruins. Then Maynor hit a pair for the Rams.
Larry Sanders blocked Collison's shot at the opposite end, giving VCU the ball and a chance to win with 11.6 second left.
But Collison made up for it on the defensive end.
Maynor, whose last-second, 15-foot jumper in the final seconds knocked out Duke in the first round two seasons ago, got the ball and was closely guarded Collison. Maynor couldn't get a clean look and his shot grazed the front of the rim and time ran out.
The Bruins weren't thrilled about making a cross-country flight to start off the NCAA tournament, but they had a small, vocal contingent of fans along for the ride. They'll need those die-hards even more on Saturday because the Wachovia Center is Villanova's off-campus home.
On paper, this was a mismatch. UCLA leads the country with 11 national titles and 18 Final Four appearances, including the last three years. VCU came in with five tourney wins in only eight trips, and has never made it past the second round.
It was far more even on the court.
Down 10 to start the second half, VCU trimmed that deficit to 39-34 on Maynor's driving layup. A pair of free throws by Maynor cut it to 47-43 midway through. Then Holiday took over after Collison went to the bench following his fourth foul with 9:26 left.
The freshman guard hit an 18-footer, made two free throws and sank a runner in the lane to extend UCLA's lead to 55-44. A minute later, a thunderous dunk by Aboya electrified the fans.
Still, VCU wouldn't go quietly. Maynor and Joey Rodriguez hit consecutive 3-pointers to get VCU within 61-58 with 3:15 left. Collison answered with a driving layup. After Sanders blocked Collison's shot, T.J. Gwynn's basket made it 63-60.
The teams went back-and-forth the first 15 minutes. With Villanova coach Jay Wright scouting from a second-row seat near half court in the press area, UCLA pulled away with a 13-0 run.
Shipp had seven points during the spurt and Collison finished it off with a 3-pointer to put the Bruins ahead 35-23. A layup by Kirill Pishchalnikov ended VCU's long scoreless drought. The Rams went 4:19 without a point and 5:36 between baskets.
Snubbed by the selection committee last year, VCU made sure it secured a trip to the tournament by winning the CAA tournament.
The Rams weren't intimidated by UCLA's storied tradition. After all, their upset of Duke came from the same No. 11 seed in 2007.
VCU fans outnumbered the Bruins faithful, who had a much longer trip from the West Coast. When a section of fans decked in true blue started chanting "UC-LA" right before tip-off, a much louder group of Rams fans drowned them out with "VCU" cheers.
It may have motivated UCLA.
More like this story on KUsports.com