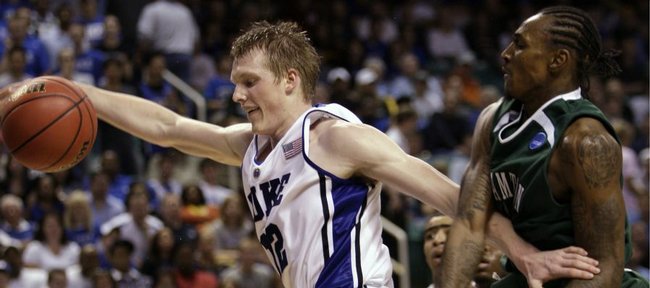 Duke vs. Binghamton
Feature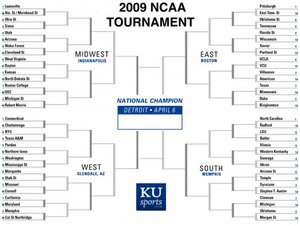 Get yer bracket on! Browse all brackets, check out out KUsports.com staff brackets, and check to see how your bracket's holding up after each match up is complete.
Greensboro, N.C. — Just in case Duke's players forgot the lesson they nearly learned the hard way last year, Mike Krzyzewski had a stern reminder for them: There's no such thing as an easy out in the NCAA tournament.
And then the Blue Devils went out and proved their Hall of Fame coach wrong.
With six players scoring in double figures, Duke made Binghamton's first appearance in the tournament a quick one by routing the Bearcats 86-62 Thursday night in the first round of the East Regional.
"I told our team in preparation for this that this (Binghamton) team was a championship team that we were playing," Krzyzewski said. "They were winners. That's what makes this tournament so exciting. More than half the teams that are participating are champions. ... This team personified that. They had a lot of pride."
Just not enough firepower to keep up with Duke — especially when nearly everyone in the rotation was contributing significantly to the stat sheet.
Jon Scheyer led the way with 15 points. Lance Thomas added 14 and Gerald Henderson and Nolan Smith had 13 apiece for the Blue Devils (29-6), the No. 2 seed. They shot 49 percent, put the game away with a huge run to open the second half and advanced to a second-round matchup with seventh-seeded Texas on Saturday.
"You think of Duke and Texas, you don't think of the round of 32," Krzyzewski said.
D.J. Rivera scored 20 points for Binghamton (23-9). The program from upstate New York that jumped to Division I in 2001 and won the America East tournament ultimately was no match for one of the NCAA's most decorated programs.
"We knew at some point it was going to have to end," Binghamton coach Kevin Broadus said. "Why not lose to one of the best in the country?"
Elliot Williams had 11 points and Kyle Singler added 10, and the Blue Devils solved the Bearcats' high-pressure defense in plenty of time to cruise to their most lopsided NCAA tournament victory since a 28-point rout of Seton Hall in the second round in 2004.
"They really got after us and tried to pick us up full court through most of the game. It forced us to handle the ball better, be sharper with our offensive possessions and take care of the ball," Smith said. "They played great defense, and they've got great guards. We really had to be ready to play on the offensive side."
They were, and they produced quite the emphatic reversal of results for a proud program that entered having lost three of its last four NCAA tournament games — and needed some dramatic play to secure its only victory in that period, a down-to-the-wire escape against 15th-seeded Belmont in the last year's first round.
This one was never seriously in doubt, though the Bearcats managed to keep it respectable for most of the first half, trailing 45-34 at the break.
"They took the fight to us," Krzyzewski said.
Then came the reality check.
The efficient Duke offense that lit up Florida State for a season-high 12 3-pointers in the ACC tournament championship game re-emerged against the Bearcats' high-pressure defense. The Blue Devils came away with points on seven consecutive trips downcourt to key the 17-2 run that pushed their lead to 20 for the first time, a decisive burst that ended when Thomas' dunk with 14:46 remaining made it 62-36.
That dominating stretch silenced even the few hundred North Carolina fans who stuck around to razz their main rival.
"They just wore us down," Broadus said. "People have already said that they're going to lose in whatever round. I tell you, they're good, and I don't see them losing anytime soon. ... We gave it our best shot, but at the end of the day, they were the better team. They wore us down, and there was nothing we could do."
Tiki Mayben scored 11 of his 13 points in the first half and Reggie Fuller added 12 points for the Bearcats, whose 11-game winning streak was snapped.
There wasn't much to pick apart from Duke's fourth straight victory, aside from allowing Binghamton to shoot 53 percent. The Blue Devils offset that by turning the Bearcats' many mistakes into easy baskets, got to the free-throw line — and even dominated the boards for a change.
Duke scored 24 points off Binghamton's 18 turnovers, was 21-of-25 from the stripe and established a 38-20 rebounding advantage. Meanwhile, the Bearcats spent much of the night in foul trouble and were just 1-of-5 from the line.
Almost from the opening tip, the chasm between the two programs was obvious.
The Bearcats managed at least one memorable snapshot: The scoreboard read Binghamton 4, Duke 2, when Mayben hit a floater about 1½ minutes in.
But for most of the rest of the way, though, it was all Blue Devils.
Duke outscored the Bearcats 25-8 during an 8-minute stretch midway through the half, a spurt that ended with Broadus being whistled for a technical foul for his loud objection to a non-call in the paint. Smith's ensuing free throw pushed the lead to 27-12 with 9:07 before the break.
But Binghamton — which was held to one field goal during a 7-minute span — crept back into the game from the 3-point line. Mayben knocked down two 3s over Thomas and Malik Alvin's long-range jumper made it 37-31 with 3½ minutes left — but that was as close as they'd get.
"We didn't want to go down big before halftime," Rivera said. "We tried to stick around with those guys."
More like this story on KUsports.com