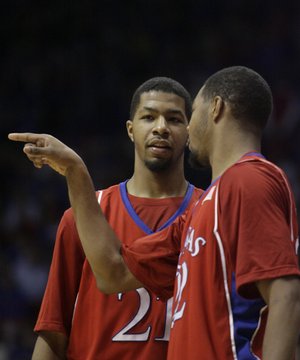 Marcus vs. Markieff
The similarities between Kansas University freshmen Marcus and Markieff Morris go beyond their indistinguishable looks. In fact, there is not much about the two that is different — from their favorite foods to their future plans.
MARCUS MORRIS Number: 22 Position: Forward Nickname: "Mook" Favorite subject: Math Favorite food: Cornbread Favorite hobby other than basketball: Football Favorite video game: Madden After college I plan on: Playing in the (NBA) Pregame ritual: Listening to music If I could meet one historical figure, it would be: Martin Luther King, Jr. Biggest accomplishment: Back-to-back state championships Best player I've ever faced: (Memphis University freshman) Tyreke Evans
MARKIEFF MORRIS Number: 21 Position: Forward/center Nickname: "Keef" Favorite subject: Math Favorite food: Cornbread Favorite hobby other than basketball: Football Favorite video game: Madden 2009 After college I plan on: Going to the NBA Pregame ritual: Listen to my iPod If I could meet one historical figure, it would be: Martin Luther King, Jr. Biggest accomplishment: Winning back-to-back state championships Best player I've ever faced: (Memphis University freshman) Tyreke Evans
Early last week, in the bowels of Kansas University's Allen Fieldhouse, Marcus and Markieff Morris were busy agreeing with each other.
This was not exactly breaking news. Marcus and Markieff, identical twins and KU freshman basketball players, are pretty much in agreement on everything. They agree on favorite historical figure (Martin Luther King, Jr.) and what school subject is the most interesting (math) and how best to prepare for an upcoming basketball game (listening to music).
At this particular moment, however, they were agreeing that, despite the logical assumption that, as first-year college students surrounded by new people and exposed to new opportunities and experiences, their familial bond might have loosened a bit over the past few months, this is most certainly not the case.
"I think being in college has actually made us closer, even though we were (already) as close as we could get," said Marcus, echoing words issued by his brother a few moments earlier. "We have met new people, but we just have a strong bond between each other where nothing can ever break us apart."
Since arriving in Lawrence last summer, the twins have spent a lot of time doing the same thing they've done since growing up in Philadelphia: being inseparable. They take the same classes, go to the same restaurants, play the same video games. They have the same friends, the same outside interests, the same future aspirations. Until the start of the spring semester, when they were given their own individual tutors, they had the same one of those, too.
Theirs is a shared world.
Asked separately if each could remember the last time they spent an hour apart, for instance, the answers come only after lengthy consideration — and even then were more guesstimation than solid fact.
"Probably last Tuesday or something for tutoring," Markieff eventually offered. "Other than that, I don't remember."
"Maybe he got in trouble in practice one time and he missed practice and had to go with (assistant athletic director for sport performance Andrea) Hudy?" guessed Marcus. "That's it, though."
There are various examples of identical twins — including those in the realm of high-profile athletics — who go to great lengths to differentiate themselves from each other: different playing styles, different personalities, different looks.
Former Stanford University standouts and current NBA players Brook and Robin Lopez, as you might remember, wore their hair in drastically different ways.
The Morris twins, however, seem to have gone to great lengths to do exactly the opposite. Their games are largely identical, they speak and carry themselves in much the same manner, and, with the exception of occasional facial hair experimentation, they feature the same hairstyles week after week.
Perhaps the best evidence of this, though, are the identical tattoos the pair have amassed over time — an intricate collection of ink that snakes up their arms and across their chests, making the two literally indistinguishable to the average observer.
According to Nancy L. Segal, director of the Twin Studies at California State University-Fullerton and author of "Entwined Lives: Twins and What They Tell Us About Human Behavior," this kind of joint individualization can be a telling symbol when discussing the relationship of twins.
"Putting on a tattoo is a conscious attempt to make yourself look more alike or less alike," Segal said. "They could have had different tattoos or one got tattoos and the other one none. So it sounds to me that they're really trying to emphasize and maintain their similarities."
Also adding to their similarities is the fact that, at this point, neither has established fully himself as the more dominant player of the pair. Through the regular season, Marcus averaged 7.7 points and 4.9 rebounds and shot 49 percent from the field in his first season. Markieff, meanwhile, has registered similar totals of 4.9 points, 4.4 rebounds and a field-goal percentage of 47 percent in about three fewer minutes per game.
And though it was Marcus who earned Big 12 Conference all-rookie honors following the regular season, he admits it easily could have been Markieff taking home the postseason honors.
"It's just someone's opinion," says Marcus. "Anybody could have made it; 'Keef could have made it."
Like many athletically gifted twins, the Morrises also have described an unspoken connection on the court, an innate feeling about what the other is going to do before he actually does it. This twin "telepathy" has resulted in some bizarre incidents at times this season.
In a Feb. 7 game against Oklahoma State, both twins air-balled a shot from the exact same spot on the floor within a few minutes of each other — an occurrence that didn't go unnoticed by fans stationed inside Allen Fieldhouse that afternoon (or the team's coach, who punished both with running drills at the following practice).
While identical airballs are not necessarily uncommon — Segal has heard of instances in which two twins have simultaneously suffered broken ankles or fallen off bicycles — she believes there are always scientific explanations for such things.
Of the twins' airballs, she says, "Maybe there's something about that particular (spot on the floor). If they're in the same position, maybe their arms and legs work the same way, and that's what happened."
Strange occurrences aside, the twins' focus now centers on how they can contribute to a lengthy postseason run. Following Thursday's early exit from the Big 12 tournament in Oklahoma City — courtesy of a 71-64 beating at the hands of Baylor — the twins are still looking for their first career postseason victory.
And what better way to bond, after all, than by winning?
More like this story on KUsports.com