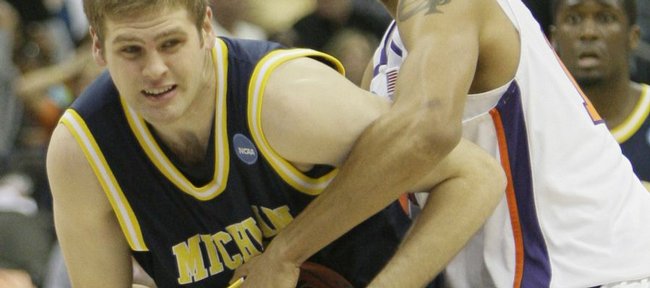 Feature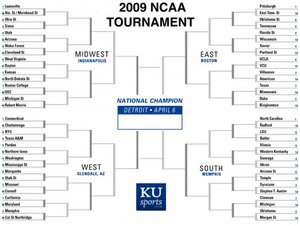 Get yer bracket on! Browse all brackets, check out out KUsports.com staff brackets, and check to see how your bracket's holding up after each match up is complete.
Shot after shot clanged off the rim, if they hit anything at all. Jumpers, 3-pointers, layups — didn't matter. Clemson just couldn't figure out Michigan's zone defense.
Michigan stymied Clemson with its 1-3-1 defense and survived a late scare in its first NCAA tournament game in 11 years, beating the Tigers 62-59 in the first round of South Regional on Thursday night.
The Wolverines (21-13) showed little sign of nerves in their first NCAA game since a booster scandal rocked the program in the 1990s, handling — for the most part — Clemson's frenetic press to move onto the second round. Manny Harris scored 21 points and Stu Douglass added 12 for the Wolverines, who will face Oklahoma or Morgan State on Saturday.
Clemson (23-9) had to dust off its zone offense after facing mostly man coverage during the ACC season. The Tigers didn't quite get the hang of Michigan's defense and ended up shooting 32 percent, including 5-for-22 on 3-pointers. Trevor Booker led Clemson with 18 points.
Clemson still managed to make it interesting.
Sparked by consecutive 3-pointers by Andre Young and another by Rivers, the Tigers used a 14-0 run to make it 58-57 with just over a minute left. Clemson still had a chance after Michigan's Zack Novak hit just 1 of 2 free throws with 13 seconds left, but K.C. Rivers' contested 3-pointer at the buzzer was well short.
Michigan, whose last tournament win came in the first round over Davidson in 1998, was supposed to be the team with the jitters and got off to an inauspicious start: two airballs and a shot by DeShawn Sims that Raymond Sykes swatted into Clemson's bench. The Wolverines settled down after that, solved Clemson's press with relative ease and built the lead to 16 early in the second half.
Maybe it was coach John Beilein's decision to take the team on a trip to the College Basketball Hall of Fame instead of a morning shootaround that kept the Wolverines calm.
Whatever it was, the Tigers didn't have it early on.
Clemson expected to have the advantage after reaching the NCAA tournament for the first time in a decade last year. The Tigers were overwhelmed by the experience and lost to 12th-seeded Villanova. They vowed to be more focused this time around, figured they would know what to expect.
They certainly had plenty of time to think about it.
After losing to Georgia Tech in the first round of the ACC tournament — its fourth loss in five games — Clemson had a week off to prepare for the NCAA tournament. The Tigers spent part of the time holding meetings, going over what had gone wrong at the end of the season, what they needed to do to get better.
The time off didn't help much. If anything, it might have made Clemson a little rusty.
The Tigers missed 17 of their first 21 shots and shot 9-of-33 in the first half, missing all but two of their 12 3-pointers.
Terrence Oglesby, one of Clemson's two 3-point specialists, had the worst of it.
A 39 percent 3-point shooter during the regular season, Oglesby was 1-for-7 in the first half, then clanged his first shot of the second off the side of the rim. His frustration boiled over a few minutes later, when he was called for an intentional foul for throwing an elbow at Douglass.
Douglass hit the two free throws to put Michigan up 38-28, then the officials ejected Oglesby after reviewing the play. Even though Oglesby finished with just three points on 1-of-8 shooting, the Tigers probably could have used him down the stretch.