Feature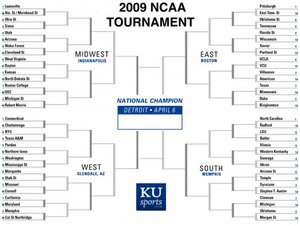 Get yer bracket on! Browse all brackets, check out out KUsports.com staff brackets, and check to see how your bracket's holding up after each match up is complete.
Having a good basketball team isn't just good fun. It pays good money, too.
Riding the wave of a National Championship, Kansas University's men's basketball team has been ranked the fifth most valuable in the nation by Forbes magazine.
The magazine placed a value of $21.7 million on the team this year, and said the team moved up three spots from last year in the magazine's annual rankings.
Only four programs were ranked more valuable than the Jayhawks.
The University of North Carolina topped the list, at a worth of $25.9 million. Other teams in front of KU in the rankings were the University of Kentucky, $25.4 million; the University of Louisville, $24.1 million; and Indiana University, $22.3 million.
The magazine pointed to ticket sales, merchandise revenue and a financial television windfall for winning the national title in 2008 as elements that raised revenue for the Jayhawks.
"We're obviously pleased, as are the fans, with the success of the team," said Jim Marchiony, a KU athletics department spokesman.
He said he had not seen the rankings, and could not address the specific figures outlined in the magazine.
Those figures included:
• $10 million in gate receipts from home games, and an overall operating income (meaning revenues minus operating expenses) of $12.9 million.
• $2 million for basketball-related merchandise royalties, including Final Four and National Championship wares.
• $1 million more in television revenue than a typical conference member for winning the national title.
The University of Missouri fell off the magazine's top 20 this year after its operating income fell 17 percent, to $8.1 million, when the team failed to qualify last spring for the NCAA Tournament.
The magazine reported income from ticket and concession sales, basketball broadcasting and sponsorship agreements, scheduling guarantees, money generated from hosting pre-season tournaments and donations required to purchase season tickets.
Most expenses came from coaches' compensation, travel expenses and game day costs.
KU was the only Big 12 Conference school in the Forbes list of the top 20 programs.
"The state of Kansas basketball is good, and has been good for decades," Marchiony said.