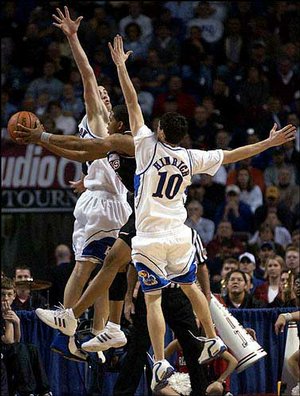 This season's Kansas basketball team has easily one of the best 1-2 punches in the Jayhawks' illustrious court history. Ultimately it might even lay claim to being the best.
Guard Sherron Collins and center Cole Aldrich can measure up to about any KU Dynamic Duos you can name. Fortunately, they'll have even more chances to cement their potent-pair reputation as the 2009 Jayhawks try to defend their 2008 NCAA championship.
Yet it's also fascinating that for all the doubletons who have worked such wonders at KU, as often as not Kansas has had three- and four-man wallops, sometimes even five-ply production, while they have annexed loads of championships and battled Kentucky and North Carolina for the top victory total among colleges.
Players, coaches and fans were reminded of another such powerful pairing on March 1 when Aldrich and Collins combined to help plaster Missouri, 90-65, while Kirk Hinrich and Nick Collison were in Allen Fieldhouse to watch. Hinrich, on hiatus from the Chicago Bulls, was here to have his No. 10 jersey placed in a niche of honor. Collison, now of the Oklahoma City Thunder, came back to join thousands of others in paying tribute to his fellow Iowan. Collison's shirt had gone up earlier.
In trying to spotlight topnotch "peerless pairs" here, I contacted Ken Johnson, a triple-degree Jayhawk who's been an executive in health care industries for years. He's now an adjunct professor of health policy in the graduate program at Des Moines University. He has two daughters who are KU graduates who married Jayhawk athletes, and his oldest granddaughter will attend KU this fall.
Quite importantly, Ken masterfully maintains HoopsZone.net, for my money the world's best source for KU basketball history. Johnson's early response:
"How about Hinrich-Collison in 2003? Granted, they had (Drew) Gooden in '01 and '02, but not for their last year (when they would have won the national chanpionship, had they been able to make a few more free throws).
"(Paul) Pierce-(Raef) LaFrentz in 1997 (getting upset by eventual champ Arizona) and 1998 (when they should have won it all, but slipped at Rhode Island). (Adonis) Jordan and (Rex) Walters in 1993 (lost to UNC in the Final Four). (Darnell) Valentine and (Tony) Guy in 1981 (upset by Wichita in a Regional semifinal).
"(Dave) Robisch-(Bud) Stallworth in 1971 (lost in the Final Four to UCLA, then W. Kentucky in a third-place game). (Howard) Engleman-(Ralph) Miller (with Bob Allen right behind) in 1940 (lost in the championship game to Indiana)."
It would take a book to cite all the duos, trios, quartets and quintets that have figured so prominently in KU's brilliant basketball annals. Oddly, one of the most productive pairs, point-wise, emerged in 1962. Yet despite the heroics of guards Jerry Gardner (20.7 points) and Nolen Ellison (15.8), KU was only 7-18 overall and 3-11 (sixth) in the Big Eight Conference.
The reason was the Jayhawks of Dick Harp did not have a single starter taller than 6-foot-4, and 6-1 Jim Dumas and 6-3 Harry Gibson were horribly outsized by everyone. But the Gardner-Ellison performances were often spectacular.
KU's first-ever superstar, not surprisingly, was Forrest C. Allen in the 1905-1907 span. But Phog, too, lacked support as KU went 5-6, 12-7 and 7-8 in basketball inventor James Naismith's final three years as coach. Phog however, was recognized by the media as a "world champion goal-thrower." Then in '08 he took over as coach and posted an 18-6 record and a 6-0 title run in MVIAA play.
Phog's 1922 and 1923 KU teams got recognized by the influential Helms (bakery) Foundation as national champions. George Rody, Charlie T. Black, Tus Ackerman, Paul Endacott, Bob Mosby, Waldo Bowman and John Wulf were featured while a sub from Halstead named Adolph Rupp saw mostly bench time.
Phog Allen and Kansas dominated the region in the 1930s, and layers of stars such as Fred Pralle, Frosty Cox, Ray Ebling and many more equally terrific players staked KU to six clearcut league titles and three ties. But the National Collegiate Athletic Assn., with KU's Allen and Northwestern's Dutch Lonborg, from Kansas, as the kingpins, didn't have its first college tournament until 1939. Many a Kansas star ended a season and went on to something else up to '39.
In 1940, however, Kansas reached the NCAA finals with a great combination of Ralph Miller, Howard Engleman, Bob Allen, Dick Harp and John Kline, and the KU eminence in national title play had arrived. Again, rather than having a 1-2 punch like the current Collins-Aldrich wallop, KU had balance and teamwork galore, a constant demand of their coach.
One of the saddest aspects of Kansas basketball history is that the Jayhawks were easily good enough to win the 1943 NCAA title with a starting five of Charlie B. Black, Otto Schnellbacher, John Buescher, Ray Evans and Armand Dixon. The day after the final game on March 6, another victory over Kansas State, all the physically acceptable Jayhawks (22-6) had been dispersed for World War II service.
KU never got a hint of a tournament game because of the Great Hate, and Wyoming won the '43 NCAA title in Kansas City.
Kansas had a 19-1 record in 1946 when its 1-2-3 punch consisted of Charlie B. Black, Gib Stramel and Otto Schnellbacher, with Ray Evans as the quarterback. But KU faced a district playoff against Oklahoma A & M with 7-0 All-American Bob Kurland in command. The outsized Jayhawks, despite their 10-0 league mark, came home from Kansas City at 19-2.
Next big tourney splash for Kansas came in 1952 when it featured a senior duo of Clyde Lovellette and Bob Kenney. KU won the national title, but while Lovellette and Kenney were scoring headliners, there were five other guys — Bill Lienhard, Bill Hougland, Dean Kelley, Charlie Hoag and John Keller — who went with them to Olympic gold medaldom.
Clyde led the nation with a 28.5 scoring average in 1952. Kenney scored at a 13.3-point pace and was the nation's top free thrower for the season. But these two were the first to declare that "those other five guys" made them look awfully good.
Next year, B.H. Born with an 18.9-point average, and Allen Kelley, with a 12.9 average, were the 1-2 scorers as KU fell only a point shy of a second straight NCAA title. But they had help from three nearly-10-point producers in Dean Kelley, Hal Patterson and Gil Reich, all of them speedy ball-hawking pests along with the relentless Al Kelley.
Wilt Chamberlain (29.6) and Gene Elstun (11.3) were the top two point leaders for the 1957 team that fell to North Carolina in the national title game by one point in triple overtime. With a 40.9 average between them they legitimately could be labeled a dynamic duo. Elstun at only 6-3 was also a surprisingly potent rebounder.
Kansas suffered heartbreak in 1966 when it should have made the Final Four. A bad call on a winning shot by Jo Jo White in the Lubbock, Texas, regional finals negated that status. That team, perhaps the greatest KU assembly NEVER to win a college crown, had a five-man punch in Walt Wesley, Al Lopes, Jo Jo White, Del Lewis and Ron Franz — with tremendous bench strength. KU was better than Texas Western which won the title — and accolades for starting an all-black team against all-white Kentucky in the finals.
Ted Owens got his Jayhawks to the Final Four in 1971 but it was a four-man double-figure crew that sparked it — Dave Robisch (19.2), Bud Stallworth (16.9), Roger Brown (11.2) and Pierre Russell (10.3). Aubrey Nash followed at 6.6. No two-man anchor here.
Came 1974 and another Final Four trip, and five men averaged double scoring figures that time — Danny Knight (12.4), Roger Morningstar (12.3), Dale Greenlee (11.8), Norm Cook (11.3) and Rick Suttle (11.3). Despite the balance, KU fell to Marquette, then to UCLA when there was a third-place Final Four game.
Some believe KU's 1986 NCAA lineup was the best the school has had, with Danny Manning, Ron Kellogg, Calvin Thompson, Greg Dreiling and Cedric Hunter averaging 9.1 points on up to Manning's 16.7. Imagine what deadly long-range bombers Kellogg and Thompson could have done with the three-point shot that came into effect the very season after they left. But again, balance rather than just two guys ruling the roost.
No doubt about it, Manning and Chris Piper were the 1-2 offense-defense mainstays of the 1988 national title season even though Milt Newton and Kevin Pritchard outscored Piper. Points alone don't always tell the tale, and Piper's defense and leadership could never be properly measured on a chart.
In came Roy Williams as KU coach, and what followed were 15 years of maximum thrills and achievements that will have people reflecting with warmth and appreciation, and some regrets, forever. Just think of the emphasis on balance and teamwork that Williams, like Phog Allen and Bill Self, instilled in his charges as he and his Jayhawks came ever-so-close so often to the brass ring, the latest near-miss being 2003 and a three-point loss to Syracuse.
You can call Adonis Jordan and Rex Walters a Big Two of sorts, but don't forget that right behind them were a lot of 10-point-type producers. Think what Richard Scott and Steve Woodberry brought to the party. Jerod Haase-Raef LaFrentz one year, LaFrentz-Pierce in 1996 with Jacque Vaughn, Haase and Scot Pollard logging in at 10 points or more. The LaFrentz-Pierce tandem sparkled again in '97, but Arizona derailed the Jayhawks.
What a magnificent trio Kirk Hinrich, Nick Collison and Drew Gooden were for two seasons, then Hinrich-Collison for one, leading to that 2003 heartbreak against Syracuse. A major indicator of the merits of Collison and Hinrich came when Oklahoma State's Eddie Sutton interrupted the game here to go over to the KU bench and shake hands with Kirk and Nick — for their massive contributions to basketball — as they left the local floor for the last time. If there was ever any doubt about getting their jerseys retired, that gesture by the storied Sutton erased it.
Enter Bill Self in the aftermath of the Era of Bad Feeling about the departure of Williams for his North Carolina dream job. There were fits and starts for Self and Co., the most notable bungles being the NCAA opening-round losses to Bucknell and Bradley in 2005 and 2006. But Self was establishing himself — once he got his own players — as a future hall of fame coach, the adoration was building and the Big Proof was on the way.
Fans love winners, and all was forgiven when Self guided a well-balanced Kansas team to a stunning 2008 NCAA title victory, KU's third, the past spring. One of the sweetest aspects of the Kansas quest was the whipping of Roy Williams' Carolinians en route to the title. Roy finally won an NCAA title at UNC but never got it done here. Self did, and signed a nifty 10-year, $30 million contract as a result.
All sorts of dandy professional-level people departed from that super-balanced 2008 roster, but KU has seldom had the 1-2 dominance in scoring and rebounding as exists with this year's Collins-Aldrich tandem.
In fact, the Collins-Aldrich combo is, if you check back at past successes, an exception rather than a rule. Kansas basketball history puts heavy emphasis on great teams that were sparked by three, four and five men rather than just a pair like Jerry Gardner and Nolen Ellison.
But if the current Dynamic Duo can help secure another league title and spark the Jayhawks to 2009 Final Four, to hell with balance and history, for now anyway.