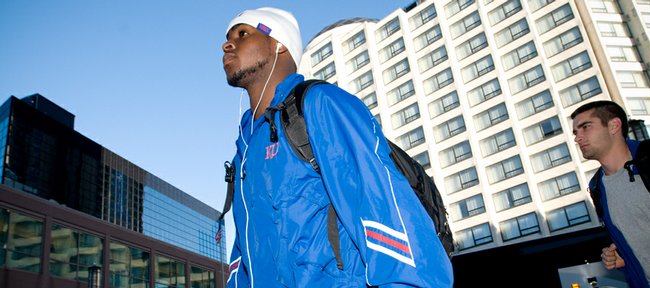 Photo Gallery
KU practices in Minneapolis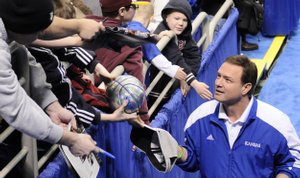 The Kansas men's basketball team held their first practice at the Metrodome in Minneapolis on Thursday, March 19, 2009. The Jayhawks face North Dakota State on Friday at 11:30 a.m.
Minneapolis — Cole Aldrich was the first Kansas University basketball player to hop off the team bus and head into the Hyatt Regency Minneapolis hotel early Wednesday evening.
Aldrich, who is a native of nearby Bloomington, had just given a history lesson to KU's coaches on the ride from the airport to the Jayhawks' downtown headquarters.
"Cole told us the state had 14,000 lakes. I thought that Minnesota is the 'State of 10,000 Lakes.' I didn't know if he took Minnesota State History as a high school prep," Bill Self said.
"No, we haven't given him a hard time," KU's coach added with a smile, fully aware Minnesota's nickname is "Land of 10,000 Lakes."
The Jayhawks, who will hold an open practice from 1:30 to 2:10 p.m. today at the Metrodome, site of Friday's 11:30 a.m. NCAA Tournament opener against North Dakota State, definitely arrived in good spirits.
"From a health standpoint, this is probably as good as we've felt in a month or so," Self said. "We've had nagging things (like Aldrich's stress reaction in left ankle), but not anything to keep anybody out but maybe a few practices. We have a full complement of players working out."
And working out hard since last Thursday's loss to Baylor at the Big 12 tournament.
"I do think this ... this tournament is so much more important than the last tournament that anything, whether it be health, fresh legs, fresh minds, anything like that is beneficial to have going into this," Self said. "I don't know if that will help us or not. I guess we are going to find out."
He did say that by Friday the Jayhawks really will be anxious to play.
"I think the closer we get to it, the more excited we get," Self said of the first-round game. "We've had a pretty good week this week. We know we have our hands full (against 26-6 Bison). We know we need to give a good effort. It should be a fun game."
He said today looms as a fun day for the Jayhawks, who held a pair of team meetings with the coaches on Wednesday night.
"After we finish our stuff (today)," Self said of practice, "the guys will be glued to the tube watching everybody else play. It gets everybody's juices flowing a bit."
Fans at today's shootaround at the dome shouldn't expect to see any dunking drills. Not after last year's Final Four practice in which Rodrick Stewart suffered a season ending knee injury dunking for the fans.
"If we dunk it'll be against (my) wishes," Self said. "So we won't be doing any of that. Still, going back to last year, he didn't exactly follow orders when he went up to dunk it at the end."
•
President's ballot: President Barack Obama picked KU to beat North Dakota State and West Virginia, then lose to Michigan State in this year's NCAA Tournament.
"I was told earlier in Topeka that the president picked us to go to the Sweet 16. I hope the president is right. Then I hope he's wrong," Self said, hoping the Jayhawks advance as far as possible.
Last year, Obama had KU advancing to the Final Four before losing to North Carolina.
•
Good students, too: KU's basketball team, as reported earlier this week, advanced to the Final Four of the 2009 Inside Higher Ed Academic Performance Tournament, beating N.D. State, Dayton, Michigan State and Wake Forest before falling to BYU in the Final Four.
"I would love to play BYU in the Academic Final Four," Self quipped.
"It speaks volumes of the academic support we have on campus and the commitment of our administration and up on the hill," he added in a serious tone. "It's a collective deal to get your team to perform as well in the classroom as we do on the basketball court. We certainly have great support to do that."
Self grinned when asked how he'd fare in a coaches' academic tournament.
"This coach would be lucky to make the field of 65, trust me on that one," Self said.
•
No zone: North Dakota State primarily plays man-to-man defense.
"They have one (zone) in their arsenal. They do not play it a lot," Self said.
•
Hockey vs. hoops: KU's Aldrich was asked what's more popular in Minnesota —hockey or basketball.
"The whole state of Minnesota rallies around hockey and basketball," he said. "It's a great thing. Everybody supports both sports. I grew up a huge basketball fan. My high school (Jefferson High) is really good at hockey. I always enjoyed going to hockey games, but I'm a basketball guy at heart."
Aldrich did not play hockey as a youth.
"There actually is a 7-foot goalie in the NHL," the 6-11 Aldrich said, noting he did play goalie in soccer.
"I only let in one goal the whole time I played. I was pretty good," said Aldrich, who stood 4-foot-9 in second grade and 6-foot in fifth grade.
•
Stephenson update: Lance Stephenson, a 6-5 senior from Lincoln High in Brooklyn, N.Y., tells Zagsblog.net he knows where he's going to college, but he's not ready to make his decision public.
"I've been having it in my head about a week ago," he told Zagsblog. "It's not the right place," he added, asked why he doesn't announce now.
He said he'll attend either "St. John's, Maryland or Kansas" and make the announcement on April 1 at the McDonald's All-America game in Miami.
"I'm going to wait to the McDonald's game where I can sit down, take my time and talk about why I picked the school and stuff like that," he said.
He said he has much respect for KU assistant Danny Manning, who has been recruiting him for the Jayhawks.
"I look up to him a lot," Stephenson said. "He's a great player and a great assistant coach so I think he's good."
More like this story on KUsports.com